Broadcasting and footy legend John K Watts has passed away at the age of 80 after a long battle with cancer.
Watts was part of the legendary radio duo 'Wattsie and Martin' in the 70's. Watts also played 166 games for East Perth and was a three time premiership player.
In our tribute hour to Wattsie on "Remember When" we speak to son Jon, Barry Martin and John OÇonnell. We play songs from Wattsie and old radio clips and also we hear from listeners of their memories of the great man.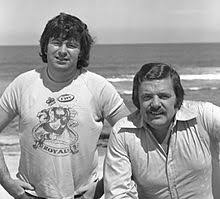 Download this podcast here