Phillip Hughes -The world mourns the loss of a 'Top Bloke'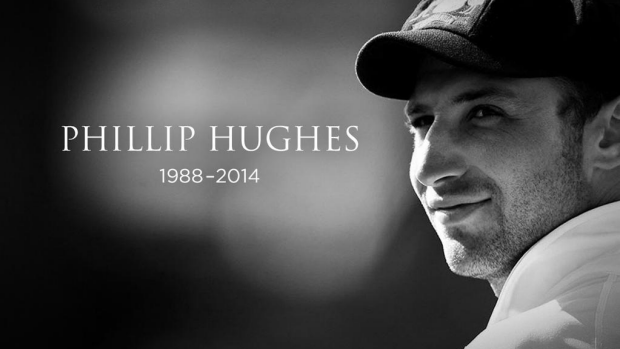 Sydney ferries is flying their flags at half-mast in memory of Phillip Hughes. The Harbour Bridge flags are also at half-mast. This photo from reader Todd Porman:
Sydney Ferry flags at half-mast. Photo: Todd Porman
Chief cricket writer for the West Australian, John Townsend, details the potential of a young man who was so tragically cut down on what he believes was the cusp of greatness.
Cricket leaders have added their concerns for Sean Abbott, the young fast bowler who launched the ball that caused the Phillip Hughes' death.
There has been an outpouring of support for Abbott, 22, who was seen cradling Hughes immediately after the accident.
Team doctor Peter Brukner has said he is receiving all possible support from Cricket NSW and Cricket Australia.
"He has been getting a lot of support from Cricket NSW and his teammates. When he came to the hospital yesterday, Michael Clarke came down and spent a significant amount of time with him. Phillip's sister, Megan, also came and deliberately spent time with Sean."
"Obviously what Sean has gone through is an incredibly traumatic experience, as it has been for everyone present on the field that day," Dr Brukner said.
10:48am: "Today is about grieving, dealing with the questions," says team manager Pat Howard.
"We will do whatever can to help the players deal with this … we will focus on people first rather than the cricket."
James Sutherland has revealed Cricket Australia has not spoken to the players about when cricket will continue, in particular the scheduled first Test against India that is due to start on Thursday. He says they understandably have "other things on their mind" right now.
"Devastated": Cricket Australia's James Sutherland. Photo: Getty Images
"Cricket moves the mood of the nation. The mood of the nation is sombre," James Sutherland says, struggling against tears.
"Some clubs are planing to paint Phillip's baggy green numbers onto their grass."
"The retirement score is traditinally 50, but this weekend, the retirement score will be 63 (the score Hughes was on when struck)."
"We all love cricket and no one loved cricket more than Phillip. Cricket will go on."
Phillip Hughes in action during the third Test against Sri Lanka in Colombo in 2011. Photo: Reuters
Cricket leaders address the country
"We've seen an overwhelming and public response to what has happened. And internationally the response has been enormous," says Cricket Australia chief executive James Sutherland.
Sutherland has read a letter he received from Middlesex County Cricket Club. The letter ends with "What a great talent he was".
'Cricket will go on when we're ready'
Call for all cricket teams across Australia to hold a minute's silence before each game in tribute to Phillip Hughes, from Cricket Australia's chief executive James Sutherland.
10:37am: Leaders of the Australian cricket community are set to address the media shortly at the Sydney Cricket Ground.
We'll bring you the updates from Cricket Australia chief executive James Sutherland, Cricket NSW chief executive Andrew Jones and team manager Pat Howard.
Why the ambulance took 23 minutes to arrive
Two ambulances were dispatched to the Sydney Cricket Ground after the accident that put Hughes in hospital on Wednesday. But the first didn't arrive for 23 minutes after the emergency call, despite the SCG being in the central Sydney suburb of Moore Park.
SMH reporter Megan Levy spoke to Gary Wilson, the secretary of the Australian Paramedics Association of NSW, to find out why it took more than 20 minutes for an ambulance to arrive.
Mr Wilson said anecdotal evidence from paramedics was that, on Tuesday afternoon when Hughes was struck on the head with a cricket ball, no ambulances were initially available in the immediate area.
"Standard practice is that, if there's no ambulances available in the immediate vicinity, they will send the closest available resource. Our understanding is that, in the Hughes incident, that crew was from Summer Hill," he said.
Summer Hill is about 10 kilometres from the SCG.
Read the full story here.
10:22am: For those following the celebration of Phillip Hughes' life on Twitter, popular hashtags include #63forevernotout and #RIPHughesy.
But the most popular and poignant hashtag is #putoutyourbats which is trending worldwide. Hundreds of people are placing their cricket bats next to their front doors and tweeting images of their bats in to remember Hughes. We've collated some of the best pictures here.
Michael Clarke and David Warner have arrived at the Sydney Cricket Ground where a press conference will be held at 1030.
Michael Clarke (right) and David Warner arriving at the SCG. Photo: Daniel Munoz
Here are members of two Indian cricket teams observing a moment of silence for Phillip Hughes before a match in Kolkata this morning.
Two local cricket clubs remember Phillip Hughes. Photo: Rupak De Chowdhuri
Tributes are pouring for Hughes from around the world.
Australian cricket captain Michael Clarke remained by Hughes' hospital bed for much of the last few days.
Andrew Webster writes of Clarke's leadership and heavy heart during one of the most difficult moments the Australian cricket community has ever experienced.
"We're devastated by the loss of our much-loved son and brother Phillip," Clarke said shortly after the announcement of Hughes' death.
"It's been a very difficult few days. We appreciate all the support we've received from family, friends, Cricket Australia and the general public. Cricket was Phillip's life, and we shared that love of the game with him. We love you."
Dr Bruckner added Hughes had always been like a little brother to Clarke.
"Michael's efforts over the last 48 hours to support the family, who have obviously been going through a difficult time … I'm not sure they would've coped without Michael's assistance. I was enormously impressed with the work that he did in the genuine care and love he gave to the Hughes family. He deserves enormous credit."