Perth Heritage Days 2016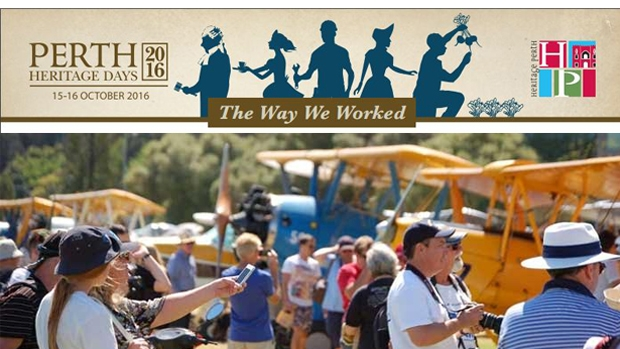 Our city did not just happen, From the early days of settlement there were systems and processes put in place to make the colony work. Just as there were people charged with the duty of carrying out the work. In 2016, the 8th annual Perth Heritage Days will reflect on 'The Way We Worked'.
As people began to settle in this foreign land, they sought ways to adapt the rules and social customs of their homeland in a manner that was workable in an environment with no on-hand support services.
From government to legal and court systems, roads and transport, emergency services, food producers, religious services, health-care, waste disposal and factories, the colonists worked on every part of community infrastructure to create a functioning, orderly city.
Throughout our young history these work processes have changed many times to build, mould and fashion the state in which we live now.
Perth ? the way we worked, will be revealed through different mediums including; exhibitions, guided walks, fascinating talks by passionate presenters, workshops, and interactive drama and music presentations in associated open buildings. We plan to bring the way Perth worked in the past alive and make the weekend a journey of exploration, fun and adventure for all the family.
During the weekend visitors to the city will have the chance to visit museums, churches, art galleries, gardens, libraries and heritage locations not normally accessible for the general public. Discover 'The Way We Worked', at this FREE family event.
PERTH HERITAGE DAYS 15 & 16 OCTOBER 2016
View the full program on-line now. This is a FREE family event.
Supported by 882 6PR.