Paralysed policeman Ryan Marron faces the sack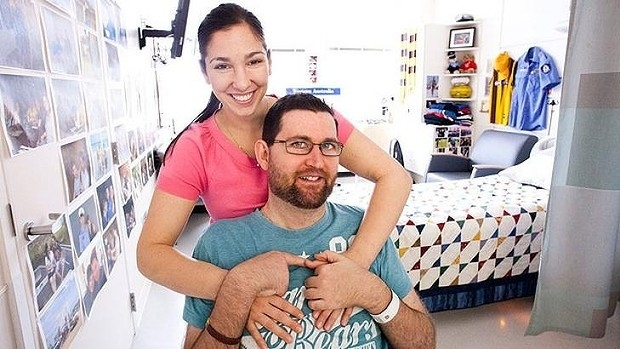 Disabled policeman Ryan Marron will be sacked by the WA Police force after moves by Police Commissioner Karl O'Callaghan to retire him medically unfit.
Fairfax Media has learnt that the stricken officer, who suffered paralysis and brain damage after contracting Murray Valley Encephalitis while on police duty in the Kimberley in 2011, has been advised that proceedings to consider his removal from the WA Police force are in train.
It is understood an email was sent to his partner Toni Misitano by the WA Police Health and Welfare branch, advising that action would be taken against him under Section 8 of the Police Act. A meeting was also held with his guardians last month where police advised the process to cease his employment had started.
The move to retire Constable Marron, 32, medically unfit comes as the injured officer lodged an application with the State Government in July for an ex-gratia payment to cover his ongoing medical costs, rehabilitation expenses and loss of income.
WA Police Union president George Tilbury said the union recently became aware that WA Police had started the process of "medically retiring" Constable Marron while assisting with his ex-gratia application.
"We are disappointed WA Police has initiated this process without first seeking confirmation that government will provide the payment," Mr Tilbury told Fairfax Media on Wednesday.
"We thought it was in the best interests of Constable Marron and his family that WA Police should hold off on any retirement until the ex-gratia application was processed."
Constable Marron was left unable to walk and talk after contracting the mosquito-borne virus in the remote Aboriginal community of Balgo in April 2011.
He and his long-term partner Ms Misitano, also a police constable, had been stationed at Halls Creek in 2011 but working a relief stint at Balgo when he was struck down by the illness.
Under a Section 8 loss-of-confidence notice, police officers can be asked to state their case as to why they should not be removed from the force. The final decision rests with the Police Commissioner.
Loss-of-confidence notices have, in the past, been served on officers who suffered injury or disability in the line of duty, post traumatic stress, those with misconduct findings against them, criminal convictions or adverse internal investigations.
Mr Tilbury said there needed to be legislative change to ensure medically retired officers were treated with dignity and not in the same way as those accused of misconduct.
"It is unfair that officers who have been injured in the line of duty go through a loss of confidence process to remove them from WA Police," he said.
"The loss of confidence process is primarily used to remove officers who have been accused of misconduct.
"There needs to be a separate and dignified way of retiring officers who can no longer be employed by WA Police."
A WA Police spokesman confirmed the process to "cease Ryan Marron's employment by medical retirement" had commenced, but was yet to be finalised with medical reports still being sought as part of the process.
The spokesman said Section 8 of the Police Act covered loss of confidence in officers for integrity and misconduct matters as well as avenues for medical retirement for those injured or disabled in the line of duty. Constable Marron's case was a matter of medical retirement, he said.
"His employment with police won't cease before Cabinet has made a decision regarding an application to government for an ex-gratia payment. Police are hoping that the two separate processes will 'come together'," he said.
"Police met with Ryan's guardians a month ago to inform them of the process that would be commenced. Ryan and his wife were invited to that meeting but were not present.
"Ryan is entitled to, and receiving, ongoing medical separation benefits, separate from any ex-gratia payment."
In 2012, the State Government gave the injured officer a $400,000 "no strings attached" donation towards ongoing treatment. The sum, coupled with community fundraising of $400,000, allowed the couple to travel to the United States for specialist care at the Rehabilitation Institute of Chicago.
While Constable Marron's supporters say he has shown signs of improvement, he is now completely dependent, requiring assistance for all day-to-day tasks.
Ms Misitano set up the Ryan Marron Foundation to help support his extensive treatment and rehabilitation costs. The foundation has now expanded to offer support to all WA Police officers and their families in times of need.
Constable Marron was accepted into the Police Academy in February 2007 where he met Ms Misitano, who was also a police recruit.
A spokeswoman for Attorney-General Michael Mischin said: "The application from Ryan Marron for an ex gratia payment is under consideration by the State Solicitors Office who have been working with Mr Marron's representatives".
In 2011, maimed policeman Matt Butcher was awarded a $3.3m ex-gratia payment by the State Government after he was left partially paralysed by a "flying headbutt" during a brawl in Joondalup in February 2008.
Comment has been sought from Ms Misitano.
Read more: http://www.watoday.com.au/wa-news/paralysed-policeman-ryan-marron-faces-the-sack-20141119-11pwif.html#ixzz3JZoDX7RY