Packer, Gyngell come to blows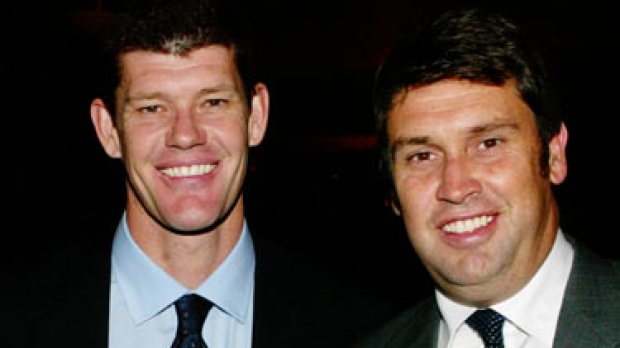 Billionaire gaming mogul James Packer and the chief executive of Channel Nine David Gyngell have been involved in a savage beachfront punch up at the weekend, reports the Sydney Morning Herald.
A series of photographs of the fracas taken outside Packer's multimillion-dollar Bondi Beach home hit the market this morning and show the pair embroiled in a 'vicious fist fight'.
The pair, long-time close friends, eventually fall to the ground and continue wrestling, before being forcibly separated by bodyguards.
The men then retreated to their respective homes before what appeared to be a medical professional attended Packer's home.
Herald Sun editor Damon Johnston confirmed News Corp had bought more than 50 images of the brawl including what he described as a 'brief but entertaining' video of the pair.
He told Tom Elliott the level of anger on their faces was 'quite extraordinary'.
'They are two very angry men coming to blows,' he said.
'This is a wild brawl in the streets of Bondi.
'People close to both men (say) they haven't seen eye-to-eye for six or so months.'
Although Johnston would not confirm an amount, it is rumoured News Corp spent up to $200,000 on the exclusive images.
LISTEN: Herald Sun editor Damon Johnston says he believes it relates to Packer's marriage break-up
A witness to the brawl, Bondi resident Chris Walker, described the event on social media:
'Holy crap! Big street fight outside my house, not thugs, James Packer and some other angry bloke going toe-to-toe. Total brawl.
'Packer packs a punch, but copped a few hits straight to the jaw. Then they all fell on the concrete fence. I think the other guy broke his face.
'They were looking for teeth after he left.
'I was so thrilled. I had a camera in my hand but didn't take a picture.'
Fairfax columnist Andrew Hornery told 3AW Mornings the Channel 9 boss was seen sitting on the boot of his car outside Packer's home for 20 minutes before the scuffle broke out.
'It's massively serious. It's pretty ugly imagery. There's punches exchanged, they end up wrestling to the ground,' Hornery said. 
'They had to be prised off each other by what appears to be Packer's bodyguard. Explosive stuff.'
Hornery, who has seen the series of 50 photographs, says it's possible that Packer himself might buy them to prevent them from being seen.
'It's been known to happen before where high-profile people have attempted to try and get photos to get them off the market,' he said.
'He's certainly got the money for it and maybe that will happen.'
In a joint statement released through Channel 9 today, Packer and Gyngell say they've had their 'fair share of ups and downs' and continue to 'respect each other'.
Chris Walker declined requests for interviews via Twitter.
LISTEN: Fairfax columnist Andrew Hornery, who broke the story, speaks to Neil Mitchell
@antonette_news Sorry no interview but leaders in our business world fighting like dogs in the street is a sad reflection on their mindset
— Chris Walker (@CW_Innerwealth) May 5, 2014
EXCLUSIVE pictures of brawl between long-time friends James Packer and David Gyngell. http://t.co/xRi8lZrHdi pic.twitter.com/1v7tvP9wOz
— The Daily Telegraph (@dailytelegraph) May 5, 2014
LISTEN: Herald Sun editor Damon Johnston says he believes it relates to Packer's marriage break-up
Having problems listening? Upgrade your media player for Internet Explorer, Google Chrome or Firefox.
Peter Ford spoke with Steve and Basil.
Stay up to date on breaking news with 6PR on Twitter