One dead – Roof collapse at Curtin University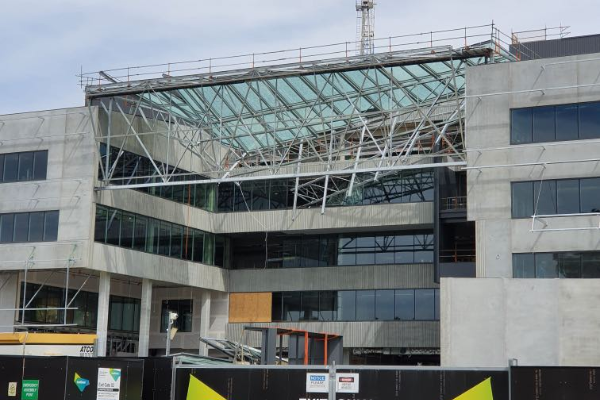 A construction-site collapse at Curtin University's Bentley campus has claimed the life of a 23 year old male, and left two men with multiple injuries.
Glass panels from the roof of an outdoor area collapsed and the men fell over 20 metres to the ground just after 12:30pm. Police said the cause of the collapse is yet to be determined.
The 23 year old man died on impact while another man in his 20s sustained life threatening injuries.
He had to be extracted from the debris by Department of Fire and Emergency Services workers and has been rushed to Royal Perth Hospital.
Another man in his 20s has been taken to hospital – police say he's talking and in a stable condition.
Engineers are now assessing the construction site to make sure it's safe before the victim's body can be removed.
Police and work safe will conduct separate enquiries. The next of kin have been informed.
Electrical Trades Union organiser Damian Clancy was walking onto the site when the collapse happened, in what he described to Oliver Peterson as a shower of steel and glass.
He said given it was lunch time, if the incident had occurred five minutes sooner, there "would have been multiple fatalities."
Listen to the full interview with Damian Clancy:
CFMEU State Secretary Mick Buchan told Perth LIVE this is a tragic day making him "mad and sad these events keep occurring."
"Enough is enough.
"It's tragic that a young man didn't get to go home today."
Listen to the full interview with Mick Buchan:
6PR Reporter Simon Etheridge was on the scene soon after the incident:
6PR Reporter Lindsay Brennan told Oliver Peterson the 23 year old's body is still on the incident site.
"It's still not safe enough to remove his body."
Listen to Lindsay's full report:
Curtin University has released the following statement:
Curtin University wishes to extend its sincere condolences, thoughts and support to all those impacted by today's tragic incident on campus, which claimed the life of one construction worker and injured two others.
The incident happened at 12.32pm at Building 418 at the northern end of Curtin's Perth campus where a
new School of Design and the Built Environment is being constructed. The site is operated by head contractor, Lend Lease.
It is understood the men were working on or near a glass roof structure when it gave way. Ambulance and emergency services attended the scene and those injured were taken to Royal Perth Hospital. WA Police and workplace safety authorities are investigating. Curtin has cancelled events on campus this afternoon as a mark of respect to those so deeply affected by this tragedy.
We request that people coming to campus avoid the northern end of campus. No Curtin staff or students were involved in the incident.
Construction at the Building 418 site began in 2019 and is due for completion next year.