Naitanui signs for 5 years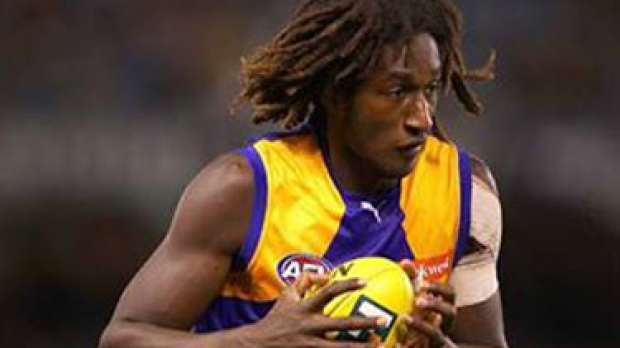 It's Official after months of speculation Nic Naitanui will be a West Coast Eagle for the next 5 years.
West Coast announced today the new deal via their website today.
Naitanui telling westcoasteagles.com.au
"It's great to sign a new contract, which allows me to now just concentrate on playing footy," Naitanui said.
"As I said the other day, I have from the very start of this said I was not going to go anywhere.
"The West Coast Eagles is my home. The club has been good to me from the time I got here and I love it here. It's like family.
"I thoroughly enjoy being a part of the playing group and I reckon we are getting close to real success.  I want to be around that because I feel like we are building."
The deal is expected to be between $800,000 and $1million dollars a year over 5 years pushing Naitanui to the highest paid  Eagle and one the top paid players in the game.
Naitanui is expected receive a significant amount of his salary from outside the cap with the AFL's Additional Services Agreement allowance increasing to $1.2 million dollars this year.
With West Coast having a host of stars coming out of contract including Victorians Andrew Gaff and Matt Rosa, Naitanui's new deal will allow them to move on these players.
CEO Trevor Nisbett told 6pr's Sports Today program last night that once Nic's deal was locked away it would allow them to focus on the next group of uncontracted players.
"We've got some others and they're in the pipeline already but certainly we are dealing with Nic at the moment, the other guys hopefully we get them done as well over the next few weeks"
Nisbett saida the All Australian ruckman is tracking along very well fitness wise and isn't far off returning to his damaging best
"We'll get him up and going and get him as fit as we possibly can, we're very very positive about the future for Nic "
Off the field West Coast unveiled plans for their new $50 million training base at Lathlain Park on Sunday.
Nisbett hit back at suggestions that his club's new facility does not make provisions to incorporate the local community after Treasurer Mike Nahan indicated that requested funding from the State Government was denied due to the absence of community training facilities in its plans.
"We've got some flagship programs like the Wirrpanda Foundation who don't have a permanent home and we want to house them out there.
"[The second training oval] will be the community oval, that'll be used by everyone; all and sundry community groups, schools, anyone who needs to use it during the day," Nisbett said.
"So it's going to have a massive community aspect and I think all we need to do is not be discouraged by Dr Nahan's comments, but actually to present again and make sure that we've got everything in order."
West Coasts come 50,000 + members will also be looked after well with a new social club at the op of the agenda
"We hope to have a social club and that will also incorporate the community at large.
"We'll have a café there as well, a museum, somewhere that the West Coast Eagles supporters can call home.
"Hopefully it will be embraced by the community and they'll be able to use those facilities as well."