My life is going to be pretty crazy now: Payne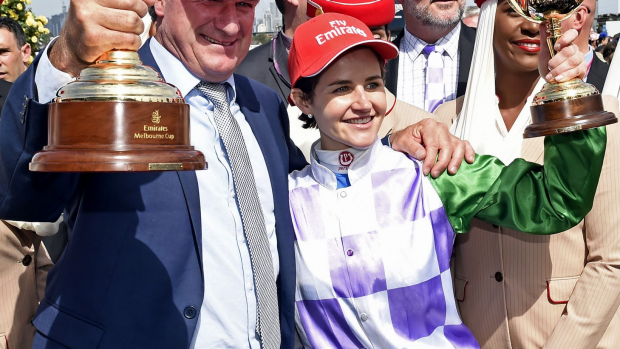 Michelle Payne can still hardly believe she's won the 2015 Melbourne Cup.
30 year old Payne became the first female jockey to win the Melbourne Cup in it's 155th edition after riding Prince of Penzance to victory in the 'race that stops a nation'.
'I think my life is going to be a bit more crazy from now on' Payne told 6PR Sports Today on Tuesday Night.
'I thought from 2 and a half years ago this horse had what it took to win the Melbourne Cup and all the way along i just said that this horse can win the Melbourne Cup and obviously you feel a little bit silly, because people say yeah right it's the Melbourne Cup whatever, but i had so much faith in him and to pull it off and to win you just can't describe the feeling'. Payne continued.
Prince of Penzance's triumph is being described as one of the biggest upsets in sporting history after the horse started at 101-1 odds to win the coveted race. And now with Payne becoming the first woman to win the race, it's now being ranked as one of the Greatest Sporting Events in Australia.
But it didn't all go according to plan in the race with Payne revealing they get off to a poor start.
'He missed the start!' Payne revealed.
'It was devastating, i wanted to get a man up with him at the start, and i was worried but then he missed the start'.
From there it all went smooth with Michelle admitting she had the race won by the 600metre mark of the 3200m race.
'He was travelling as well as he ever travelled and when he first cleared at the 300m mark i knew i was going to win and i had never yelled as loud in my life!'
Michelle is one of 11 children and her brother Stevie is the horse's strapper who pulled barrier one for the winning horse.
Payne says she nearly shed a tear with him post race behind closed doors.
'Stevie was pretty emotional and i had never really seen him like that, hes a happy go lucky character and he was trying not to cry and that was when i felt the most emotional because to be there and share that with him is the most special part about this.
Listen to the full interview of Michelle Payne and also winning Trainer Darren Weir with Peter Vlahos and Kim Hagdorn on 6PR Sports Today below: