Murray River Cod discovery surprises scientists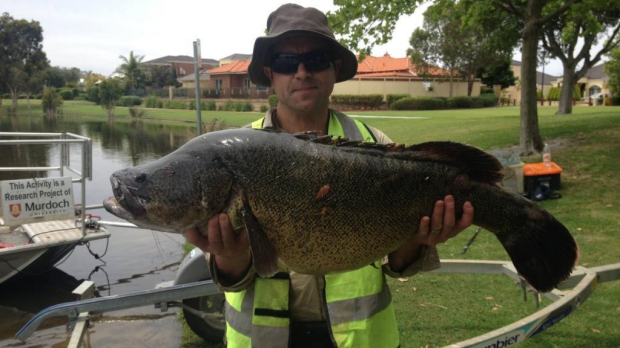 As far as urban legends go the hunt for the leviathan that lives in the local lake or river is a popular one amongst fishers and the push to prove the beasty existence a source of colourful tale.
A group of researchers from Murdoch University unwittingly unearthed (or what ever the aquatic equivalent might be) such a legend and photographed it for proof.
All by accident.
The story goes, as told by 6PR sport presenter and avid angler Karl Langdon, a team from scientist were conducting a standard feral fish eradication program in Canning Vale.
The method of choice for collecting the unwanted visitors is electrocution, or 'zap and scoop'.
The team of environmental experts send an electrical current through the water that stuns and kills the inhabitants of the lake and then they simply scoop up what floats to the surface for further investigation.
The main fish of focus in these endeavours is usually carp but this time researchers were surprised by a behemoth bobbing around on the surface amongst the more diminutive carp.
On closer inspection it was determined it was a Murray River Cod.
A prized fish for both fishers and consumers.
The Cod was estimated to be between 10 and 15 kilograms which, at current market prices for this piscatorial delicacy that appears on such high end restaurants as Quay in Sydney, at around $600.
But that's not where the story ends.
A local resident watching exercise unfold told the university team she was sad to see the dead Cod because she regularly walk to the lake to feed the fish dog biscuits.
The as yet unidentified lady then threw the group of electro anglers a curve ball when she inquired if the other 'bigger' cod was ok?
So for those of you who would like to help clear local water ways in Canning Vale of introduced species we suggest you pack your heavy gear and get down to the lake.
Not sure which bait you would use but maybe start with Pal or Chum.
This story will be updated with more precise facts once Murdoch University finish their 'research' on the aquatic delicacy…er…oddity.