Mum's disgust at S**t van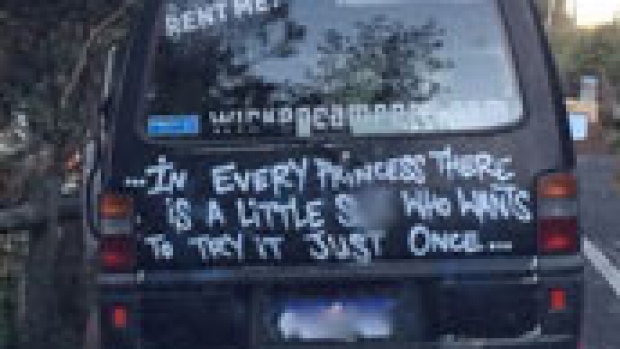 They're colourful and occasionally funny but have Wicked Camper Vans overstepped the mark with their edgy slogans? A Sydney mother spoke to Steve and Basil about one particularly offensive painted van.
Paula Orbea a Sydney mother and blogger has started a campaign against the popular camper van company. 
Wicked's renatal vans stand out thanks to brightly coloured exteriors and often sport popular culture motifs and quotes from films, or lyrics from hit songs.
Unfortunately the vans – which are popular with backpackers – occasionally feature crass or offensive images.
The van which has Mrs Orbea outraged features the slogan 'In every princess there is a little s*** who wants to try it just once'. 
'I think it promotes pedophilia,' she said. 
'I would say that it's the most offensive because it targets girls, there is no way you can interpret that any other way.'
Have you seen a Wicked van that has offended you, are they overstepping the mark?
Stay up to date on breaking news with 6PR on Twitter