Minister to ask for review of 'blacked out' MRA report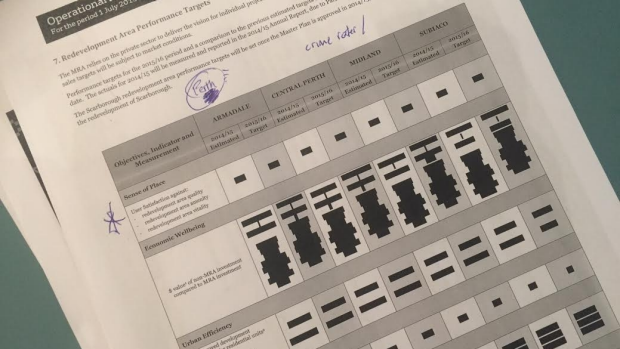 Questions have been raised about the amount of information the State Government keeps secret from the people of Western Australia.
An example of commercial-in-confidence used by the State Government relates to a report released by the Metropolitan Redevelopment Authority.
Page 18 of the MRA's 'Operational Plan' is completely hidden, with data on Redevelopment Area Performance Targets, including economic wellbeing, connectivity and overheads to inventory and profits 'blacked out'.
Planning Minister John Day has told Gary Adshead on the 6PR Morning Program, he will ask for a review into the scope of what is kept hidden by the MRA in future reports.
The State Opposition says the Planning Minister needs to review the use of commercial-in-confidence and bring the MRA report back to parliament with a proper Operational Plan.