Mighty Meares vs Average Adshead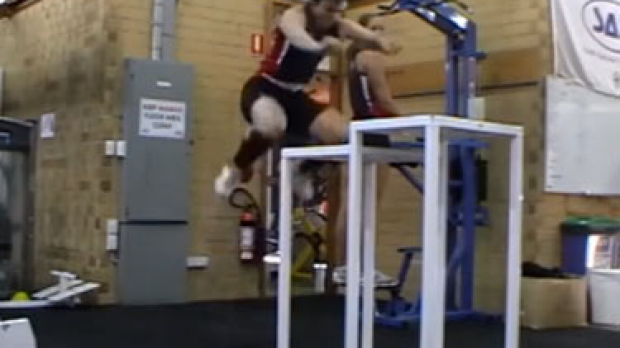 Inspired by a training video showing Olympic champion Anna Meares'  110cm vertical jump to a platform during training, the Morning program's Gary Adshead has risen to the challenge. Watch Gary's efforts right here as he conquers the height and eyes of 2018 Gold Coast Commonwealth Games.
PLEASE DO NOT ATTEMPT THIS AT HOME. 
Part of cyclist Anna Meares' preparation for the Glasgow Commonwealth Games was to complete 6 reps of a 110cm box jump.
The feat is even more impressive given that Mears stands just 165cm and weighs 70kgs.
Gary Adshead rose to the challenge to see if he has the potential to become a potential medalist at the 2018 Gold Coast Commonwealth Games. (NB: No desk was harmed in the filming of this video)
For the record Gary did make the 110cm easy but he did it in two installments but it is a start. 
6PR's roving reporter Lisa Barnes has stepped up to the challenge set by Gary Adshead.
While tenacity may be Lisa's middle name athleticism certainly isn't. Reading from the 'Little Red Engine That Could' playbook, Lisa was finally able to overcome the height and throw it back to Gary in the ongoing 'who cares most' challenge.
Stay up to date on breaking news with 6PR on Twitter