MH370 Possible Breakthrough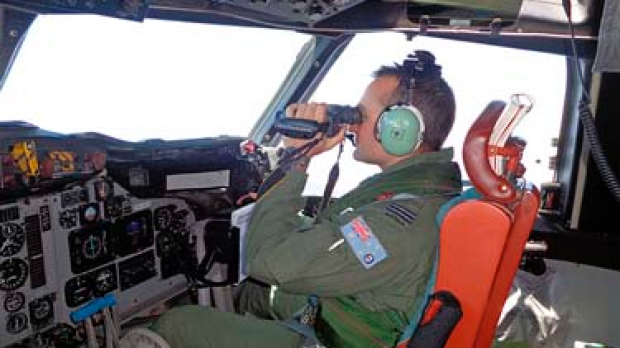 There is still no sign of any debris from the missing Malaysia Airlines plane as the Australian-led search of the southern Indian Ocean is set to resume.
Searchers are looking for a large piece of debris spotted on satellite images in the Indian Ocean about 2500 kilometres south-west of Perth.
Seven Victorian SES volunteers, who are trained observers, have also been despatched to join the mission.
Fading light and bad weather is hindering the search effort.
Doctor John Blaxland from the Australian National University has told 3AW Breakfast with the combination of currents, low visibility and rubbish in the water he's not optimistic searchers will find anything.
'On the balance of probabilities it may well be a semi-submerged ISO container,' he said.
'So I think we need to be very circumspect about how we view this and how optimistic we are about what we might find if, and when, we find it.
LISTEN: Dr John Blaxland says the object will be hard to locate as it will have moved a fair distance since the images were taken
LISTEN: Acting prime minister Warren Truss tells Neil Mitchell crews are trying to gain better understanding of the currents
Acting Prime Minister Warren Truss has told Neil Mitchell so far nothing of interest has been found.
'There are four aircraft involved today and there are a number of merchant ships in the area,' Mr Truss told 3AW Mornings.
'And of course HMAS Success is on its way.
'You are right to say this is a very difficult search. It's a long way out to see.'
The St Petersburg, a Norwegian merchant ship, was the first to reach the area where the two objects were sighted.
Speaking from Oslo, the owners of the St Petersburg say the crew has been searching through the night.
'We've been using all available lights on board, all men on deck, binocluars,' they said.
'That's the best search we can do under those circumstances.'
On Thursday, John Young from the Australian Maritime Safety Authority says the objects, found by Australian authorities and revealed by Prime Minister Tony Abbott in Parliament, could possibly be related to the missing plane.
'Those who are expert indicate they could be credible sightings. The largest image I've seen is assessed to be 24 metres.'
Mr Abbott told Parliament the Australian Maritime Safety Authority had identified two objects in the Southern Indian Ocean.
'New and credible information has come to light in relation to the search for Malaysian Airlines flight MH370 in the Southern Indian Ocean,' Mr Abbott said.
'The Australian Maritime Safety Authority has received information based on satellite imagery of objects possibly related to the search.
'Following specialist analysis of this imagery, two possible objects related to the search have been identified.'
Watch the video of John Young's announcement yesterday
Read More on WAToday
What they didn't tell us about the photos