Mandatory vaccines for majority of WA's workforce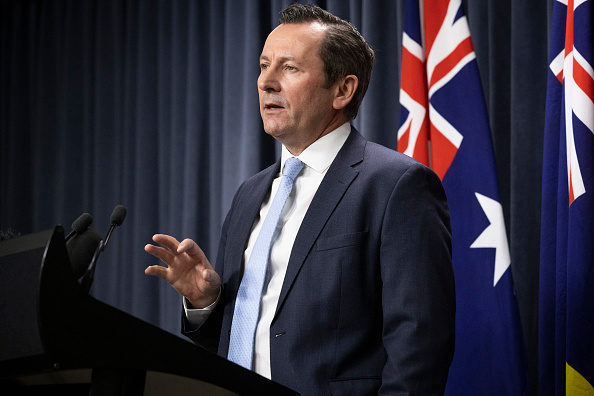 Premier Mark McGowan has expanded the industries where COVID-19 vaccinations will be mandatory.
On Wednesday, the Premier announced a 75 per cent blanket of the State's workforce.
Speaking with Perth LIVE's Oliver Peterson, Mr McGowan believes the action was based on the state's health advice.
"I realise it's a difficult thing but we've already mandated the aged care workforce, the health workforce, the mining workforce, some of the port workforce and some of the interstate freight workforce," he said. "What we're doing is expanding that now into areas that are critical to the workforce and also areas where people work with vulnerable people."
The new measures will cover around 1.1 million workers within Western Australia.
The mandate is broken down into three groups:
Group 1: First dose by December 1, 2021 and fully vaccinated by December 31, 2021.
Group 2: First dose by December 31, 2021 and fully vaccinated by January 31, 2022.
Lockdown: Must be fully vaccinated to attend work during a lockdown or similar restrictions.
Mr McGowan says a plan to bring WA out of it's bubble will be released when vaccination rates reach at least 80 per cent.
"Somewhere between 80 and 90 per cent then we'll be able to set a date when we have certainty and line of sight as to where we're going," he said. "Setting a date too early could mean that we have to shift it or move it one way or the other."
As of Wednesday, around 74 per cent of WA's eligible population had received their first dose and 57 per cent were double-dosed.
The Premier said double vaccinated family members looking to travel to WA for Christmas from Victoria or New South Wales will still have to spend two weeks in hotel quarantine, regardless of their vaccination status.
"Vaccination doesn't remove your capacity to transmit, so you can still transmit the virus. If people come in and they're not in hotel quarantine, we run a huge risk that those people will spread the virus in our state and we'll have to shut down over Christmas," Mr McGowan said.
Failure to comply with the rollout could result in a $20,000 fine.
Press PLAY to hear the full interview