Longmire backs AFL scrapping GF replay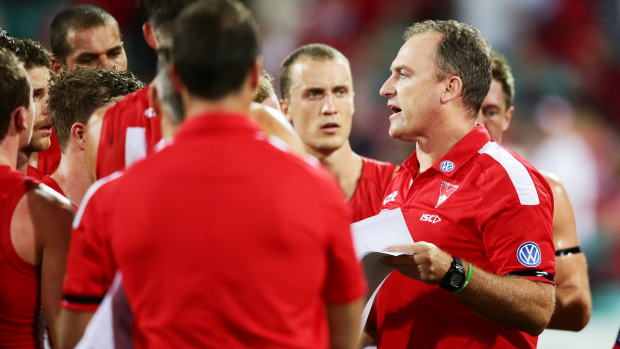 Sydney coach John Longmire has thrown his support behind the AFL commission's decision to scrap the Grand Final replay.
The AFL has seen three Grand Final replays in the last 70 years with the most recent six years ago between St Kilda and Collingwood.
The commission announced on Tuesday that a drawn Grand Final would now be decided by extra-time with five minutes each way and then golden point if scores remain tied.
Longmire said it is a logical decision and a good one for interstate teams.
'I'm really in favour of it. I mean you guys from Perth would obviously appreciate it as well as being significant for clubs that are outside of Melbourne,' he said.
'I think it just makes sense. I think it's a good call.
'I think it's fantastic the commission have been able to make the decision.'
Longmire also said he expected former Eagle Callum Sinclair to overcome his foot infection and line up against his former club on Saturday at the SCG.
'He had a run around today and felt pretty good.
'He'll be fine to train fully – we'd expect at this stage – on Thursday and be available for selection.'
Sydney's Premiership coach refused to buy into any chat about the smaller and wider SCG being a significant advantage on Saturday.
Hear Saturday's match live on 882 6PR with Brad Hardie, Peter Vlahos and Drew Morphett.