Lone gunman Man Haron Monis was out on bail when he took hostages at the Lindt cafe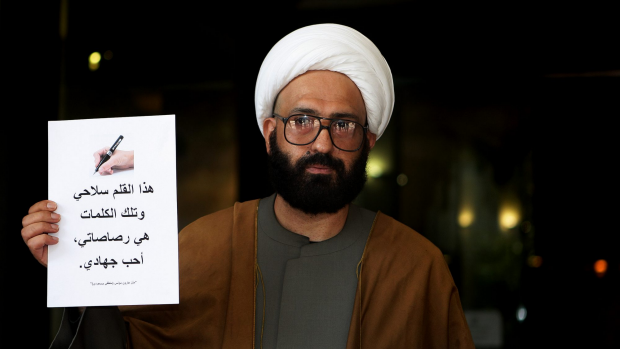 The man identified as the gunman and shot dead by police yesterday was well known to police after after several court appearences since arrival in Australia from Iran asa refugee.
Man Horan Monis came to attention of authorities after he wrote inflamitory letters to the family of of deceased Australian servicemen.
Crime reporter for Fairfax Media Nick Ralston has followed the criminal history of Monis since those letters saw him charged and sentenced to communiuty work orders.
Mr Ralston described the gunman as more of an 'unhinged dangerous criminal' rather than a radicalised terroris.
Crime reporter for Fairfax Media Nick Ralston on 6PR's Morning Program
Earlier on Tuesday
A reporter at Tuesday morning's press conference with the NSW Premier posed the uncomfortable question about the Martin Place siege that will now surely become the subject of further investigation: "How was this gunman free on bail?".
Man Haron Monis, a self-styled sheikh shot dead by police in the early hours of Tuesday morning, was before the courts on two separate and serious matters: more than 40 sexual assault charges involving seven alleged victims; and as an accessory to the murder of his former wife.
Killed by police: Man Haron Monis. Photo: Channel Seven
He died seven years after first coming to the attention of police, when he penned poisonous letters to the family of Australian soldiers killed in the Middle East.
Monis, 50, was given bail at Penrith Local Court on December 12 last year after being charged with being an accessory before and after the fact to the murder of his ex-wife and mother of their two children, Noleen Hayson Pal, 30.
Ms Pal was allegedly stabbed 18 times and set alight in an apartment stairwell in Werrington on April 21, 2013.
Out on bail: siege gunman Man Haron Monis. Photo: Nick Ralston
Monis' then partner, Amirah Droudis, was charged with Ms Pal's murder
Magistrate Bill Pearce granted the pair bail after a hearing lasting more than three hours.
"It is a weak case," he said, according to media reports at the time.
Martin Place siege ends following shootout with police
The 16-hour siege in the Lindt Chocolat Cafe in Martin Place has come to a dramatic end as police confronted the suspected gunman Man Haron Monis. Photo: Jennifer Polixenni
Each of the accused had an alibi, the witness statements varied significantly, they didn't have anywhere else to go and they weren't a threat to the public, the magistrate said.
"If there is a threat it was to this woman who was murdered."
Monis and Ms Droudis were granted conditional bail and ordered to report daily to Campsie Police Station.They were also ordered to surrender their passports and not go within 500 metres of a point of overseas departure and not to contact "the prosecution witness".
Ms Droudis' bail conditions also stipulated that two people had to agree to forfeit $100,000 should she fail to meet her bail conditions. She was also ordered to reside at a place in Wiley Park.
Monis had to find a person to deposit $10,000 cash and was ordered to reside at a place in Belmore.
In January this year, a 27-year-old woman complained to police that she had been sexually assaulted by Monis, after attending "spiritual healing sessions" in response to an advertisement placed in newspapers aimed at the Fijian-Indian, Macedonian, Spanish and Chinese communities.
That complaint triggered a police investigation, which saw Monis charged on April 14 with three sexual assault charges against one woman. The charges were sexual intercourse without consent and two charges of assault with act of indecency.
The woman was visiting him at a property in Station Street, Wentworthville, in August 2002. He appeared before Magistrate Christine Haskett at Kogarah Local Court. He was refused bail.
On May 26, he was granted bail at Parramatta Local Court by Magistrate Joan Baptie. The conditions placed on him in December 2013 were reinstated although he was to live at an address in Wiley Park.
On October 10, he was charged with a further 40 sexual assault charges against six women. This included 22 counts of aggravated sexual assault, 14 counts of aggravated indecent assault, one count of aggravated act of indecency, one count of sexual assault and two counts of assault with act of indecency. The women were visiting him at Wentworthville where he was offering services as a "spiritual healer". His bail was continued by Magistrate Dorelle Pinch.
He was due to appear in Penrith Local Court on Friday, December 12, but this was vacated and changed to February 27, 2015.