Liberal MP distributes homophobic how to vote card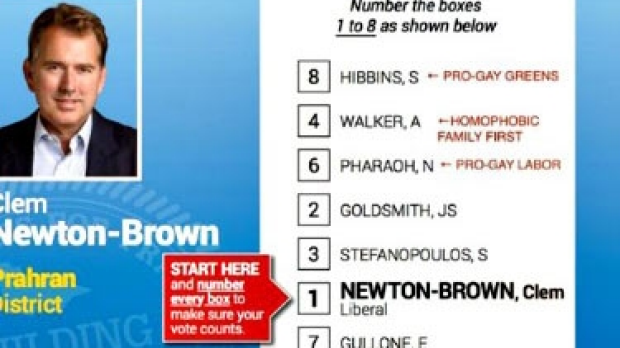 Prahran state Liberal MP Clem Newton-Brown claims a phony how-to-vote card highlighting opponents' stance on sexuality was sent out on social media by mistake.
3AW Breakfast was sent a Facebook trail in which a voter asked Mr Newton-Brown about his voting preferences in the state election on November 29.
In response, the 3AW Breakfast listener was sent a how-to-vote card that details three opponents' position on sexuality.
It reads…
Hibbins, S: Pro-gay Greens
Walker, A: Homophobic Family First
Pharaoh, N: Pro-gay Labor
Mr Newton-Brown confirmed the digital how-to-vote card was sent by him.
However, he said it was not made by anyone associated with his campaign.
He claimed it was sent to him by an opponent, saved to his phone's photo gallery, and sent to the 3AW Breakfast listener in error.
LISTEN: 3AW Breakfast producer Cushla Travers details the story