Joel Selwood backs Menzel to make successful return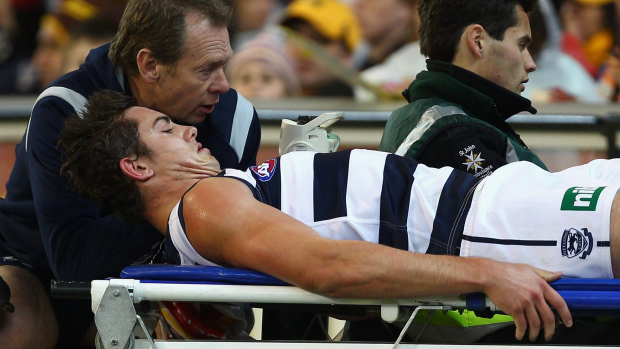 Geelong captain Joel Selwood has backed luckless teammate Daniel Menzel to make a successful return from injury and says he can't wait for the day it happens.
Menzel, 23, has already undergone four knee constructions in his career and last played an AFL match in 2011.
But a promising fourth-place finish in the Cats' two-kilometre time trial at training on Monday set tongues wagging.
Selwood, speaking on Sports Today from Western Australia ahead of Saturday's International Rules clash with Ireland, said Menzel was slowly starting to regain confidence in his body.
But he warned the Cats wouldn't be rushing their highly-touted livewire.
"He's actually in a really good state," Selwood said.
"He's obviously still got a lot to go but we're all just hopeful that he can get his chance at some stage next year.
"I'm sure that it will happen at some stage and we all can't wait for it.
"It's just a matter of time and making sure we don't rush it and wait until he is ready."
@joelselwood14 just doing a quick interview with @SebCostello9 @3AWRadio off the back of a 50ft boat #bigdog pic.twitter.com/wmyjsyB0i5 ? Brodie smith (@Brodiesmith33) November 19, 2014
Selwood will captain Australia against the Irish at Subiaco this weekend and said spending the past few days with the game's best had only reinforced his decision to play in the much-maligned series.
"I've been looking forward to it for a long time," Selwood said.
"Once we got together on Sunday afternoon it backed up why we are all doing it.
"We're all here for a reason, to be around good people and the really good players of the league, and we're really keen to make sure this series survives for a long time."
The tough-as-nails midfielder conceded Australia was still struggling with the round ball but remained confident of performing when it counted.
"We're not going to get it perfect but we'll have to find a way to make sure that we do and use it the right way Saturday night," Selwood said.
LISTEN: Joel Selwood chats with Seb Costello on Sports Today.