It's not a dolphin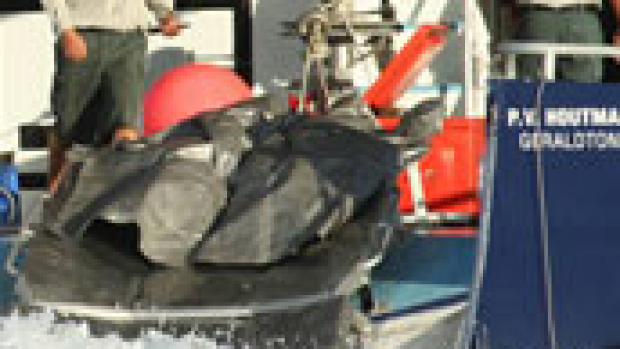 A photograph circulating on social media showing a marine animal under a tarp on a Fisheries boat is covering a shark, not a dolphin, as activists against Western Australia's controversial shark cull suggest.
A DPC spokesman said the catch was a shark, not a dolphin.
However, a fisheries source provided more details saying that tarpaulins are to secure and stabilise the sharks and are placed over all animals pulled onto the boat ramps.  The source did not want to be named to protect his job.
Larger sharks are left on the ramp as they are too heavy to be lifted by officers and smaller sharks are placed on the deck.  In both cases a tarpaulin is used to secure the animal, the source said.
Greens spokeswoman Lynn MacLaren said a surf skier saw a juvenile dolphin near the drum lines off Leighton Beach on Thursday and followed the animal for about 100m.
'About 20 minutes later, the surf skier witnessed officers on a Fisheries boat pulling something that she thought might be the dolphin aboard,' Ms MacLaren said.
Activists went to the area, but when they arrived, the animal was covered in tarpaulin and the Fisheries boat sped out to sea where it could not be followed, Ms MacLaren said.
The same Fisheries source denied the vehicle sped away but said officers were today using a different, faster vessel than they had on previous trips.
'Crew aboard the Houtman were not trying to lose the protesters they were just doing it's job,' the source said. 
Under the shark kill policy, all bull, tiger and great white sharks longer than three metres that are caught on drum lines within one kilometre of parts of the WA coast are being shot dead and discarded at sea.
Stay up to date on breaking news with 6PR on Twitter