I want to fight in Perth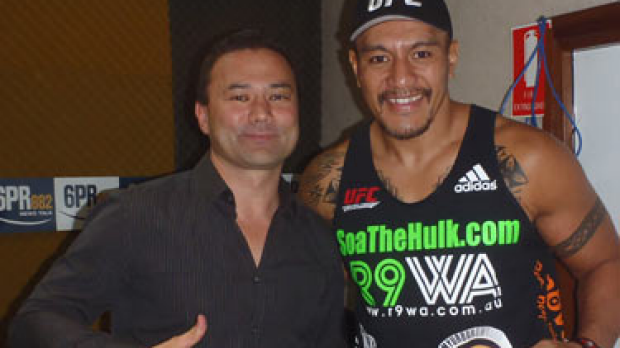 Stay up to date on breaking news with 6PR on Twitter  
I Want to Fight in Perth
Perth's UFC Heavyweight Soa "The Hulk" Palelei was in the 6PR studio with Peter Bell.
Soa is back in Perth following his victory over South Africa's Ruan Potts at the UFC Fight Fight in Cincinatti 2 weeks ago.
Now ranked in the Top 15 in the Ultimate Fighting Championship Heavyweight Division, Soa will be back in action on June 28 when he faces Jared Rosholt in the Co-Main Event of the UFC Fight Night in Auckland, New Zealand, the first time the UFC will go to New Zealand.
But what Soa wants more than anything is to be the Main Event at a UFC event at Perth Arena.
The WA Government has put in place a ban on the cage for MMA competition in Western Australia, even though the WA Sports Combat Commission strongly disagrees with the decision.
The UFC fight night that was in Brisbane last December that Soa was on, was supposed to be in Perth. Because of the cage ban, the event went to Brisbane and WA lost out on over 10 million dollars in revenue which went to Brisbane.
It is strongly considered that the decision to ban the MMA cage was made based on an opinion of a Premier that doesn't like the sport, rather based on any evidence at all.
The question has been asked, why have a Sports Combat Commission in place if the politicians who know very little about the sport are not going to listen to them and their recommendations?
UFC Director of Operations Tom Wright was in Sydney last week looking to set up another UFC event for Australia for later this year.
Wright wants to set up meetings with Colin Barnett, Sports Minister Terry Waldron and WA Director of Sport Ron Alexander to overturn the Cage Ban so that they can have a UFC event at Perth arena.
Danny Green loved fighting in front of his home fans in Perth. This cage ban does not give Soa the same opportunity to fight for the UFC in Perth in front of his home crowd.
The Cage is there for safety reasons as it prevents the fighters from falling out of the ring.