I just called him a 'coward'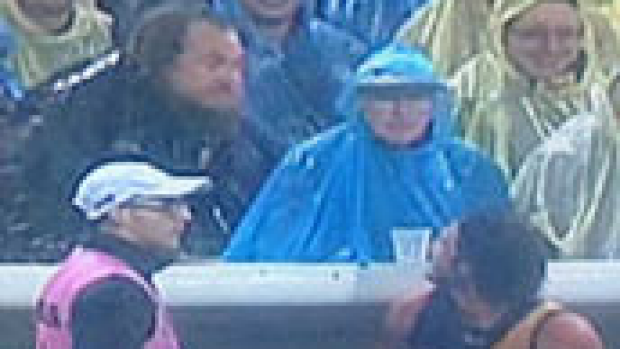 The fan who rushed to the Richmond dug out to confront Tyrone Vickery during the clash with the Eagles says he wouldn't hesitate to do it again but denies he swore at the Tigers' bigman. James spoke to Steve and Baz on the Breakfast show.
Listen to full interview with James and his friend Ben by clicking here.
Stay up to date on breaking news with 6PR on Twitter  
Two West Coast Eagles fan who engaged in a passionate tete-a-tete with Richmond's Tyrone Vickery on Friday night say they did not overstep the mark and would not hesitate to repeat their actions.
Ben and James – who made contact with Radio 6PR Breakfast on Wednesday morning – banged on the top of the Richmond dugout and gave Vickery a spray after he knocked out Eagles champion Dean Cox in a second-quarter ruck clash.
The pair were described as 'lunatics hanging over the fence' in post-match comments by Richmond coach Damien Hardwick, who added 'I don't know another profession in the world where you can walk into a bank teller and start calling them names like that.'
But Ben and James both denied swearing at Vickery.
'I was the guy in the black hoodie,' Ben said.
'We're just passionate supporters who love the Eagles, we didn't swear or anything like that. We were just sticking up for Coxy.
'[Vickery told us] we didn't know what we're talking about, in a friendly way. We copped more from Choco [Richmond assistant coach Mark Williams].
'There was no abuse at all. We'd never do anything to a player. But if players stand up for themselves, then so should spectators.'