Home where Taggart's heart is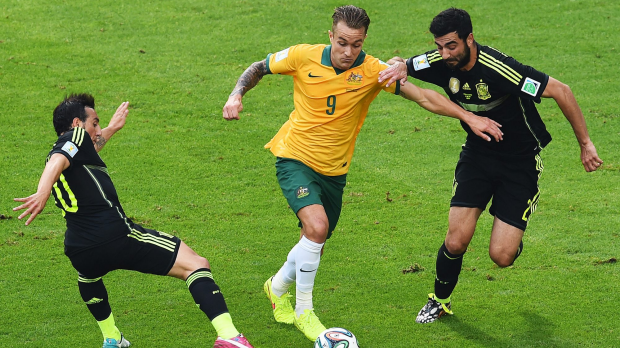 Perth Glory recruit Adam Taggart has spoken about the highs and lows he has experienced en-route to finding his way back to his hometown club.
Taggart began his A-League career with the Glory in 2010 and remained at the club until 2012 when he headed to the Newcastle Jets.
It was over with the Jets that Taggart became a star of the A-League when he scored 16 goals in the 2013/14 season to win the golden boot award.
A season that led to the ECU Joondalup product signing a dream deal with English Championship team Fulham.
While injuries curtailed Taggart?s time at Fulham he made seven appearances for Dundee United in the Scottish Premier League on loan.
It was after this stint that the 22-year-old decided to come home and play for the Glory again.
?There?s been massive ups and a few downs over the past year with injury, but most of it has been a positive journey,? Taggart said reflecting on the journey on Sports Today.
?It?s nice it?s brought me back to Perth in a way because, whilst I was here I didn?t get to do anything really special like win the league or have a great year.
?So now all the focus is on trying to do something and share something with the Perth community.
?Obviously with me being here I can understand a little bit more what it?s like to support the Glory, hopefully there are some good memories to come.?
At just 20 years of age Taggart was also apart of the Socceroos 2014 FIFA World Cup campaign appearing in two games against the Netherlands and Spain.
An experience Taggart said was a dream come true.
?It was unbelievable ? it was all so surreal at the time,' he said.
?It was only after the World Cup I understood and completely realised the experience I had just had.
?It motivates me to be a better player and a better person to experience that again ? it?s a crazy experience.?
After a whirlwind five years playing for four different clubs Taggart will have some time off before he can line up in his second stint for his hometown club.
Under FIFA regulations a footballer can only play for two clubs in any one season, which due to his time at Fulham and loan stint at Dundee United, rules out Taggart.
Glory fans forced to wait until the 2016/17 A-League season to see the strike force of Taggart and Andy Keogh along with Chris Harold. Don?t expect Taggart to slack off during though.
?It?s disappoint and frustrating, but at the same time I?ve got to make the most of this period,? Taggart said.
?I definitely can?t just sit around and wait for next season it?s completely the wrong thing to do and something that?s going to hinder my development and performance next season.?
One of a number of the current Glory crop who played at least some of their junior football at ECU Joondalup, Taggart spoke about his younger days in the wide-ranging interview.
?My dad is football crazy. It was just the way I was brought up,? he said.
?It?s what you look forward to as a kid each day. It becomes an obsession and the older you get you realise it?s possible to be a professional and I?ve never looked back.?