Germanwings crash: Pilot 'locked out of cockpit'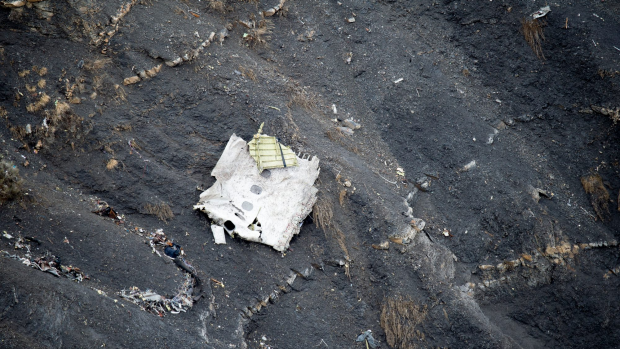 Investigators have extracted cockpit voice recordings from one of the black boxes of the Airbus plane that smashed into the Alps and say they expect to have a read-out of the content within days.
One of the pilots of the doomed Germanwings jet that crashed in the French Alps on Tuesday was locked out of the cockpit, reports say.
The detail, reported by the New York Times, came from investigators examining a single audio file found in the battered remains of the plane's cockpit voice recorder.
The recording was extracted from the mangled and broken remnants of the recorder, a bright orange box found on Tuesday amid the debris scattered down a steep, dark ravine near Seyne-les-Alpes, the French crash investigation body BEA said.
The Times quoted a senior military official involved in the investigation as saying there was a "very smooth, very cool" conversation between the pilots early in the flight; then one of the pilots left the cockpit and could not re-enter.
"The guy outside is knocking lightly on the door and there is no answer," the investigator told the Times. "And then he hits the door stronger and no answer. There is never an answer."
The report said the pilot could be heard trying to smash the door down.
Aviation expert Geoffrey Thomas says that the new report points to the possibility of pilot suicide as a cause of the crash that claimed 150 lives.
'I hope this is not the case but the 'pitch down' event is very rare and has only one of two causes really.'