Garlett's WAFL surprise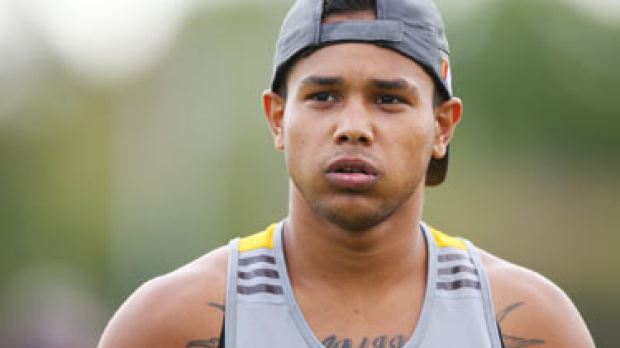 In what would be a huge coup for the WAFL, de-listed Hawthorn player Dayle Garlett could play for Swan Districts as early as this Saturday afternoon against East Perth.
Garlett amazingly quit the Hawks on Tuesday just months into his AFL career after struggling with homesickness and the necessary demands of being an AFL footballer.
General Manger of the West Australian Football Commission Steve Hargrave told Radio 6PR the 20 year old will be eligible to play WAFL this weekend but it will be up to Swans to make fhe final call
"(Swan Districts) will look at the welfare of the player, they'll look at a number of things prior to making a decision about this weekend "
Hargrave confirmed, should Garlett wants to play WAFL this weekend and there is nothing in the rules stopping him from doing so.
General Manger of the West Australian Football Commission Steve Hargrave 
"I don't think they (Swan Districts) view it as a priority but the process for that to take place means that he needs to be delisted by Hawthorn, registered to play etcetera and that process would be completed by the end of this week.
Hawthorn Football Manager Chris Fagan confirmed to AFL.com.au on Wednesday they would delist Garlett to allow him to return to the WAFL.
"I think it's a real credit to the footy system that a young man can put his hand up and say look I'm not committed or can't for personal reasons and continue at this level " Hargrave told 6PR.
"At least the football system can be in a position to allow the young fella to to play football that very weekend."
A star for Swan Districts in 2013 with 45 goals, Garlett was surprisingly taken with pick 38 in last year's national draft by the Hawks.
Most AFL clubs believed in his talent but were wary of his off field behaviour which included posting pictures on instagram of himself drinking alcohol and smoking cigarettes.
Hawthorn was the only club prepared who had sufficient confidence in its structures  to offer him the chance to become an AFL player
One man who backed the troubled youngster to return to the big time is Mark Harvey.
The former Essendon legend told 6PR other AFL clubs shouldn't give up on Dayle.
"It's part of growing up sometimes I think we fail to realize that. There's one thing for sure he does need to play some type of football."
Harvey played alongside dual premiership player and Norm Smith Medalist Michael Long who struggled in his initial time at the Bombers.
"Michael Long when he first came down from Darwin for 3 or 4 years he wanted to go home .. it can be all about the culture , there wasn't the media focus I guess on those sort of players in those days.
" I guess (Garlett's) at home back at home with his family and he's happy about that and we'll wait and see how it unfolds. "
Garlett would be a huge boost for Swan Districts who lost their 2010 Sandover Medalist Andrew Krakouer to West Perth after he returned to WA this year following 3 years at Collingwood