Free riding weasel has twitter all a flutter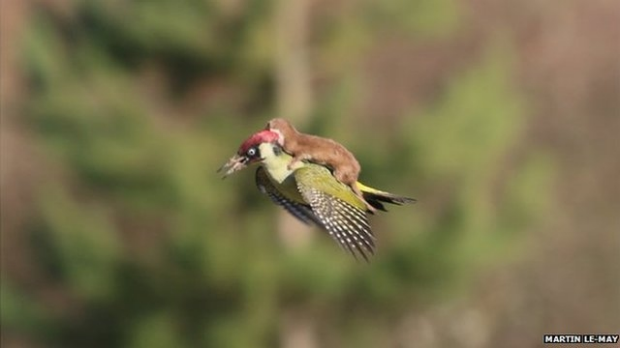 An Amateur photographer from Britain has captured a once in a lifetime shot that has the world all a flutter over its authenticity.
Martin Le-May, from Essex, told the BBC he was merely on a stroll in the woods with his wife when his attention was drawn to an unusual squawk.
Turning quickly with camera in hand Mr Le-May began to shoot but wasn't sure what it was he had captured until he was able to download the images on to his laptop.
"I soon realised it was a woodpecker with some kind of small mammal on its back." he said.
The mammal turned out to be a weasel on the back of the woodpecker and the photo turned in to a social media phenomenon particularly on twitter (all pun intended).
"It's almost a dream that you take a photograph that lots and lots of people not only look at but like" Mr Le-May said "I'm so proud so many people are getting to see my image. I'm totally taken aback by the response to it."
If you can top this shot send your photo to web@6pr.com.au