Farbrace recognises England's limitations amid Perth punishment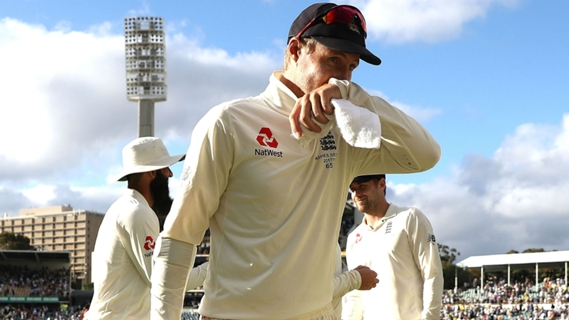 Assistant coach Paul Farbrace paid tribute to England's character while conceding their shortcomings in the face of a demoralising day three of the third Ashes Test in Perth.
The tourists arrived at the WACA on Saturday holding a 200-run lead over Australia, but took just one wicket in 90 overs of play as the hosts made the most of an excellent batting surface.
Captain Steve Smith reached his highest Test score with an unbeaten and faultless 229, alongside Mitchell Marsh's superb maiden hundred, the Western Australian delighting his home crowd with a glittering 181 not out as the pair shared 301.
Their fifth-wicket stand remained unbroken at stumps, Australia in total control on 549-4, with a lead of 146 and one hand firmly on the urn.
"It's been a tough day," conceded Farbrace when speaking to BT Sport. "They've shown when you get in you've got to go big and that's a tough lesson for our batsmen.
"They've played exceptionally well. Of course you can look at how our bowlers bowled but we toiled away well.
"We haven't got that extra pace that the Australians have got and we don't have that magical spin. We have what we have.
"We knew there would be times when it would be tough for our bowlers. I thought our body language was pretty good, we stuck at that pretty well. The conversation we've just had is that it's a tough day, we've worked hard and just haven't been quite good enough to get wickets on that surface.
"We've done as much as we can today and given our all and that's all you can do."
Craig Overton, whom it was revealed was continuing to bowl despite suffering a cracked rib, was held up by Farbrace as an example of England's attitude.
"There's a lad playing his first Test series, cracked a rib, and still gone out and bowled for us," he said. "That speaks great volumes for him as a character.
"Everybody's got to stand up, scrap and get stuck in. Until a Test match finishes you have to believe you can get something out of it. Yes it's going to be hard, but the best teams find a way to compete and get stuck in when their backs are against the wall.
"It's all very well talking about it, we've got to go out and do it."