Election 2019: The Morrison/Shorten report card — Week 3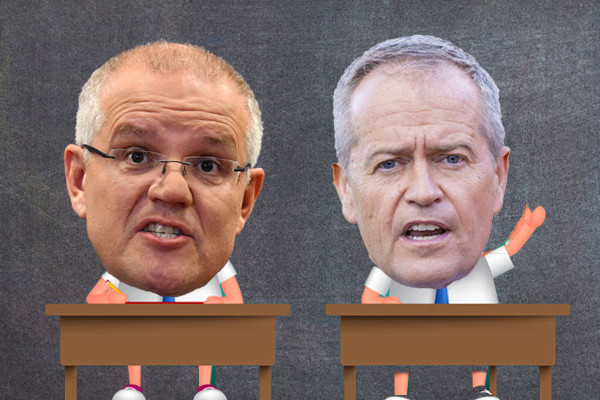 Each week of the federal election campaign, Macquarie Media's Political Editor, Michael Pachi, will assess the performance of the Labor and Liberal leaders.
SCOTT MORRISON
GRADE B
As the election campaign reaches its half-way mark, it's steady as she goes for Scott Morrison and the Liberal Party.
He remains the more confident campaigner, as evidenced by the first leaders debate on Monday in Perth.
Mr Morrison continued to push Labor on the cost of its various policies, with the Opposition admitting it can't put a price on its key climate proposal.
It's a big concession from Labor given how hard the party has campaigned on climate change and its 45 per cent emissions reduction target. But voters do deserve to know how it will impact at a time of economic headwinds.
Mr Morrison then owned stuff-ups by a number of Liberal candidates who were forced to resign over a series of issues, including homophobic and racial slurs. The PM said Liberal branches, especially in Victoria, need to improve their vetting process when selecting candidates. I think this was the right approach to deal with what has become a messy issue for both major parties.
Mr Morrison has been able to bat away questions about the party's preference deal with Clive Palmer, but there is still clearly a need for answers.
Despite the polls showing support for Mr Palmer's United Australia Party is on the rise, I do think there is a significant segment of the population that is concerned about the deal and the influence Mr Palmer may potentially wield in the next parliament.
I think voters are right to question why are the Liberals doing a deal with someone that has caused so much angst for hundreds of workers following the collapse of his Queensland nickel refinery.
It's an issue Labor is prosecuting well against Mr Morrison, painting the Prime Minister as someone who is prepared to cling on to power at any cost.
The government has suggested Labor has also tried to secure a deal with Mr Palmer, but was unsuccessful, but I just don't think it's had the same cut through.
Voters understand the preferential voting system much more these days and Labor has also honed-in on the inconsistencies the Coalition has with One Nation; while Liberals are putting the minor party below Labor, the junior Coalition partner, the Nationals are putting Pauline Hanson's party 2nd on their how-to-vote cards.
Given the scandals One Nation has been involved in over recent years, it's very easy for Labor to prosecute the "chaos" argument against the Liberal-National Party.
I do think this is a weak point for the Coalition, and could bite.
While Mr Morrison can mix it with the punters and provide the TV pictures for the nightly news, does the broader public deserve to know a little more about his plans for the future.
There's no doubt Mr Morrison is a solid communicator with clear and concise one-liners; but where to from here.
As Katherine Murphy from the Guardian put it in her column this week, what does Mr Morrison plan to do in his first 50 or 100 days in power if the Liberals are re-elected?
It's all well and good to say the government has stabilised the economy and we're on track for a surplus next year, but not everyone is feeling the love.
Sure some sectors of the economy are performing well, but other sectors aren't, a zero inflation rate during the first three months of the year is nothing to celebrate, and while wages are rising it's still at a snails pace.
For the 3rd week in a row I've given Scott Morrison a B, because he has been able to hold the show together and that's being reflected in the tighter opinion poll numbers. However, as we head into the final fortnight of the campaign I'd like to hear more about his plans for the future, not just rest on the laurels of the past.
BILL SHORTEN
GRADE B
I've been on the so-called "Bill Bus" this week and I've had a chance to see the Opposition leader up close.
I saw a spring in Bill Shorten's step early in the week, after a fairly ordinary fortnight on the campaign trail.
He would have been buoyed by a Labor rally in which he announced three key policies; more childcare subsidies for parents, more money for childcare workers and a plan for 3 million pensioners to get free dental care.
Mr Shorten dominated the news that night; while Scott Morrison was rehashing immigration policy and talking about caps to the the refugee intake.
The first leaders debate of the election campaign went well for a Bill Shorten after a shaky start. 52% of Channel Seven's studio audience of 48 undecided voters declared him the winner (i happen to disagree with the verdict, I thought it was a pretty uninspiring performance from both leaders).
No doubt Mr Shorten needs to take more risks, and ease-up on the stage managed nature of the campaign. Even with the debate, once he flicked his notes and was more free-flowing, he performed better.
He took a risk last Saturday when he decided to walk through Salamanca Market in Hobart, he ate and drank a few local delicacies and give a young busker a 5er.
Mr Shorten also had a woman come up and call him a "prick" behind his back – uh oh, no doubt he would be thinking this attempt at meeting the people has gone pear-shaped. Mr Shorten turned around and asked the woman why she thinks that, and luckily for the Labor leader, she thought he was Scott Morrison and apologised!
It provided a light heartened moment and the pictures were good, allowing Australians to see a slightly different side.
But Mr Shorten has his eyes on the prize, and privately believes Scott Morrison's constant craving for a picture opportunity demeans the position of Prime Minister. He argues most Australians don't want someone who likes to joke and play around, but someone who is serious about policy issues.
I'm not sure about this strategy, in the end Mr Morrison can also point to his own achievements while at the same time being a bit more of an "everyman".
On another issue, the Labor team have confidently called-out the preference deals the Coalition parties have done with One Nation and United Australia. I think the "chaos" mantra is having some cut-through with voters.
Now, while Mr Shorten has clocked up a few wins this week I do think there are some issues which are causing concern, among them is the broader climate policy.
I'm all for Mr Shorten putting something out there, but he needs to clarify how it will be paid for, simply saying it's all too hard to come up with a figure is not good enough. Trying to make a ham-fisted link with eating too many Big Macs and a lack of action on climate change didn't do him any favours, it was just a confusing analogy. This week independent modelling revealed that in a worst-case scenario Labor's climate policy could slash as much as $542 billion from the economy by 2030. These are scary numbers, and while Labor can deny them, they need to offer an alternative.
I also think Labor erred very badly when it allocated $500 million in taxpayers money to increase the wages of childcare workers; such a move would always get the back-up of workers in other low paid industries and it sends a signal to some businesses they don't need to lift wages, because the government will do it on their behalf. I think this issue became messy for Mr Shorten when he had to concede the policy would not apply to other sectors and childcare workers have only been targeted because they are a a "unique case" ranking 92 of the 96 lowest paid workers in the country. Questions are also being raised about the cost of the policy over the long-term, the government is putting the figure at $1.6 billion a year after 2027.
For the first time in the three weeks of writing this piece, I've given Mr Shorten a B up from C. I think he has performed better, and taken criticism in his stride. Mr Shorten does still have serious questions to answer on key issues. Admittedly on climate he got out there and prosecuted aspects of his policy such as more jobs in the renewable energy sector and acknowledged the cost was yet to be settled, but argued doing nothing is not an option. Mr Shorten's childcare wage policy surprised many and it took a couple of days to clarify, but again he persisted with the policy despite the criticisms and left open the door of further interventions for other workers in other low paid industries, such as Aged Care. Where I do think Mr Shorten really cut-through this week is making voters think more closely about the preference deal between Clive Palmer and the Liberals.
As we enter the final fortnight of this campaign, hundreds of thousands of people have already voted early. There's a lot riding on the campaigns of both major parties and neither can really afford to put a foot wrong.