Eagles to carefully manage Nic Nat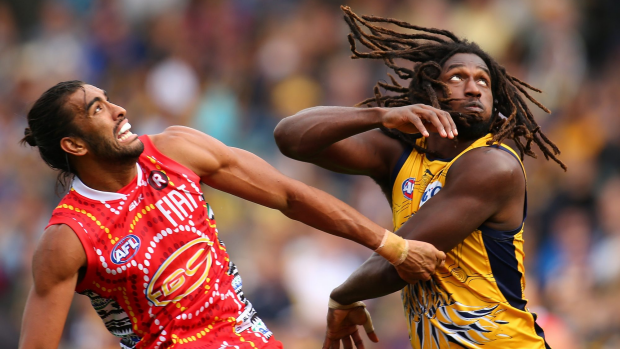 The West Coast Eagles will carefully manage Nic Naitanui this week but expect him to play against Adelaide, according to coach Adam Simpson.
The 26-year-old ruckman was battered and bruised as he arrived the club on Monday on crutches along with a broken nose.
Simpson had spent the day in Melbourne but said he believed it was just the status quo for Naitanui.
'He's managing his body. He's had a good couple of pre-seasons and he's got some good games under his belt,' Simpson said of the ruckman.
'We've always got an eye on his body and how we can get him through a full season.
'It's very delicate on occasions and we've just got to manage it in the right way.
'He's probably feeling the same today with how he's felt the last five weeks with his Achilles, they just get a bit sore.
'It's a concern, but look, I still think he'll be right to play.'