Dogs love their fast footy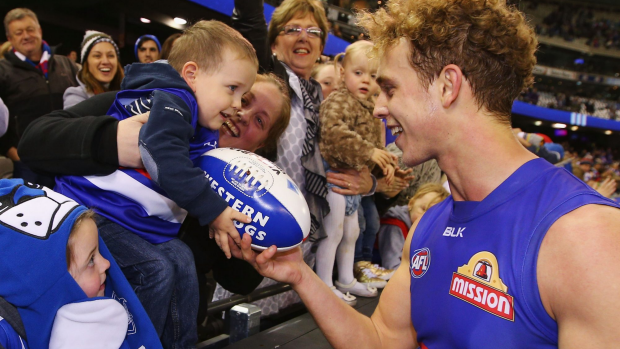 The Western Bulldogs are aiming for a home-ground advantage akin to the Western Australian teams at Etihad Stadium in 2016, according to Mitch Wallis.
The 'Dogs were 11-2 at the venue in 2015 and have won their last nine matches at the ground.
Experts attributing the conditions and 'fast-track' as the perfect match to their run and stun game plan.
Speaking on Sports Today to Karl Langdon ahead of a round-one match-up against Fremantle, Wallis said beneath the roof of Etihad felt like home for the young dogs.
'If we can make it a fortress and make it hard for teams to beat us there then that's all the better for us,' the 22-year-old Wallis said.
'It's fast footy there and it's pristine conditions underneath the roof, which we like.'
On the back of eight debutants in 2015, the Bulldogs have named two more for their round one match up against Fremantle, including West Australian Marcus Adams.
The mature age Adams, who was drafted from West Perth in the WAFL, joins Josh Dunkley in the named side.
Wallis said: 'It's a great team to be a part of.'
'There's fairly stiff competition for spots. You talk about Liberatore who has been one of our best players for four or five years.
'Like I said, he's a best and fairest winner, so he's definitively got a role in that side.
'With him and like you said, Jackson Macrae it's going to be a pretty formidable midfield along with (Jake) Stringer and Marcus (Bontempelli).'