Dean Nalder's business links exposed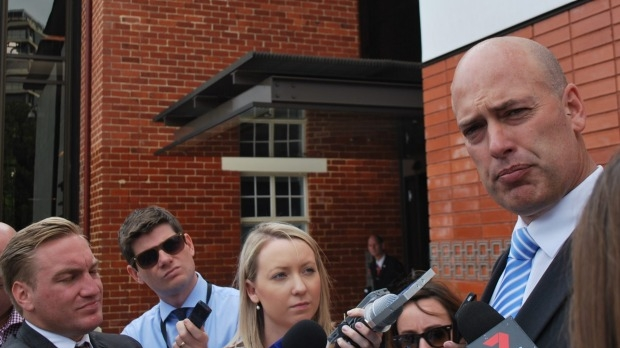 The future of Transport Minister Dean Nalder is looking grim following revelation he intervened to ensure his business partners were invited to meet powerful political figures from China.
Mr Nalder responded to questions Parliament from the opposition that he was responsible for ensuring that his business partner was invited to a state government function to meet Chinese officials.
The minister admitted that his office had compiled an invitation list that included his Metier Asia Pty Ltd business partner Darryll Ashworth and bankers from his former employer ANZ.
Nalder asked Chinese Consul to invite M?tier CEO to attend dinner, confirmed in QuestionTime today.#nostandards ? Sue Ellery (@sueellery) December 2, 2014
Darren Brown Editor of The Good Oil political website talks to Paul Murray on the Drive program
Earlier in the day Labor leader Mark McGowan says Premier Colin Barnett has no other choice but to sack Transport and Finance Minister Dean Nalder after he revealed more allegations of conflicts of interest.
Mr McGowan made the claim, some detailed further below, as Mr Nalder continually denied he and his wife Collette invested $400,000 in a property firm Metia Asia, which has management and development interests in China.
It was also revealed yesterday the minister attended meetings with the Chinese Consul General in Perth, where Mr Nalder's business partners were present.
It comes on the back of WA Today reporting on Monday that Mr Nalder is a major shareholder in a company called Fleet Network, which leases cars to public servants.
Mr McGowan said Mr Nalder has been caught out not telling the truth.
"I think the Premier had no option but to remove Mr Nalder from cabinet," he said.
"You can't engage in this kind of activity and expect to survive as a minister.
"The minister and the Premier should come out and come clean.
"It wasn't good enough for Barry O'Farrell (former NSW Premier) … O'Farrell resigned over a bottle of Grange, yet Mr Nalder is able to get away with all sorts of shenanigans."
Mr McGowan said Mr Nalder also lied about meetings with the Chinese Consulate.
"Mr Nalder met with a senior Chinese representative in Western Australia in conjucture with his own business partners and two director general of government departments," he said.
"How did Mr Nalder's business partner get into that meeting? I expect he was invited by Mr Nalder, otherwise he would've not got in the door.
"He has ensured a benefit for his business partner and own financial interest."
Mr McGowan said the Transport Minister had gone to extraordinary lengths to hide his own shareholdings in Metia Asia.
"Why did he say it was part of his superannuation fund, when it was clearly his own shareholdings?" Mr McGowan asked.
"He has misled, he has deceived, he has not told the truth.
"Secondly we learn that Metier, the company Mr Nalder's friend, his mate, is engaged in, was doing deals with the state government.
"How can he think that it is right and proper to be involved in decisions when his good mate has a financial interest?"
Mr Nalder's conflict of interest according to Labor includes:
On June 5 Mr Nalder and his wife invest $400,000 in Metier Asia.
On June 5, Sunheat invested $600,000 in Metier Asia. The major shareholder of Sunheat is Parisam Pty Ltd, where Mr Nalder is a director.
In June 2014, the Metropolitan Redevelopment Authority publishes an EOI for the premium food and beverages at the state government's redevelopment of Elizabeth Quay. Metier and Metier Asia CEO Darryll Ashworth is listed as one of the contacts for interested parties.
Metier is one of the leasing agents for the Kings Square development, which includes the new $209 million underground bus station.
On October 29, Mr Nalder announces plans for the new Perth bus port.
Metier is the leasing agent for the redevelopment of the Scarborough Beach front, which the Barnett government plans to pour $30 million into.