Council ignores racist issue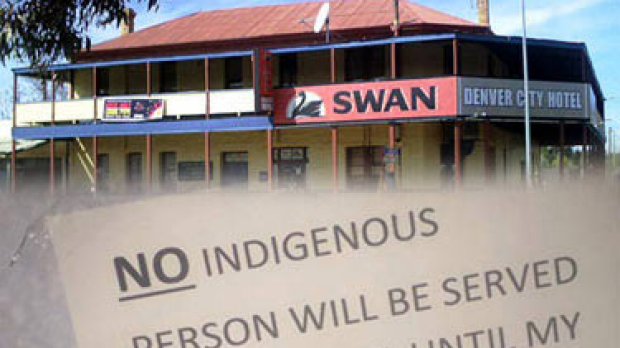 The Aboriginal Legal Service is upset by the lack of action taken by the Coolgardie council against a publican who posted a sign in her pub refusing to serve aboriginals. Gary Adshead spoke to Denis Eggington about the Coolgardie's 'wild west' attitude toward racism.
The sign posted inside the Denver City Hotel by the publican, Deborah Ovens.
Below is the Coolgardie councils response to the above sign and incident involving the Denver Pub.
In relation to the very recent media attention being focused on the Townsite of Coolgardie.
The Shire of Coolgardie has over the last three years, engaged in positive change over the Coolgardie townsite. This has seen a tangible and significantly positive shift in the reduction of antisocial behaviour in our town. With the assistance of all of our residents and external agencies in the region we are continuing to work on positive change and providing social advantage to our residents, regardless of ethnicity, and provide social interaction opportunities. This most importantly is building civic and or cultural pride. We are on the start of wider interaction for provision of job ready skills and opportunity for cultural advantage and very much hope that the attention that we are currently the recipient of will be available when we are successful in this task.
Our door is open to anyone who wishes to assist us in influencing positive change and acceptance of diversity. I extend this offer to ALSWA to visit our town and be part of positive change.
Regards,
Stay up to date on breaking news with 6PR on Twitter