Couch car surfing 'idiots'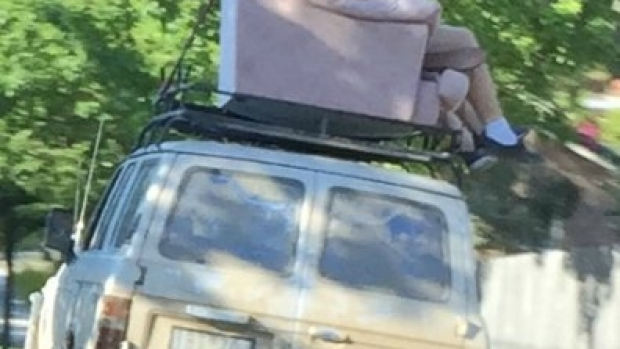 Photos of couch surfing 'idiots' have raised concerns over increasing levels of bad behaviour on Australian roads, despite a police crackdown.
3AW listener Richard caught the men on camera, while driving in the Glen Iris area on Sunday evening.
Richard told Neil Mitchell he was appalled.
"To my utter bewilderment a car pulled out ? a 4wd that had a couch strapped to the roof," he said
"There was two young lads sitting on top of the couch drinking beer.
"Ridiculous behavior and we wonder why there are so many tragic incidents on our roads."
Poignantly, Richard was heading to meet his 16 year old son who has just earned his learners permit.
"I showed him the photos."
"And said 'there are idiots in the world.'" Added Neil.
Neil's Take: Idiots sitting on top of a couch being driven along on top of a 4WD. How easy it would be to fall off and the distance you'd fall if you did fall off.