Chef Matt's quirky canapes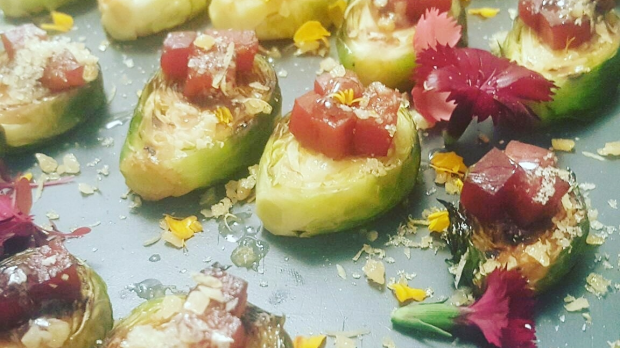 Brussels sprouts are one of the most unpopular vegetables on the dinner plate, but it's the star of the show in Chef Matt Leahy's recipe this week!
In his latest segment on Perth Tonight, Chef Matt Leahy told Chris Ilsley that he and the crew at Ultimo Catering and Events, were preparing more canapes than ever – thanks to their increased popularity in weddings and other functions.
Among the creative canape offerings on the winter menus he has put together are duck parfait, pumpkin cobbler, carrot pannacotta, chicken with Cumberland jam and this week's recipe, which you'll find below:
Char grilled Brussels sprout with pancetta, maple pudding and popping candy
Ingredients
500g Brussels sprouts
50g pancetta
100mL maple syrup
3g Gelespressa (or corn flour)
10g popping candy
Method
Wash the Brussels sprouts and remove outer leaves. Put a pot of salted water on to boil, then blanch the Brussels sprouts till tender. Cool in iced water.
Cut the Brussels sprouts lengthways on both sides of the stem to end up with a thick coin shape. On a hot skillet, char grill the sprouts on both sides.
Cut the pancetta into three-millimetre cubes. Drizzle some maple syrup over the pancetta and roast in an oven on high heat for seven minutes. Remove and set aside for assembly.
In a pan, put the remaining maple syrup and stir in the Gelespressa (a thickening agent which can be substituted with corn flour). Bring to the boil, then chill and put in a piping bag.
To assemble, simply put a blob of maple fluid gel on the sprouts, three cubes of pancetta and gently warm in a oven. Sprinkle some popping candy over them before serving.
Add some micro herbs and flower petals to finish.
Listen to the full segment below:
For more Perth Tonight stories, click here.