Chef Matt's hearty beef stew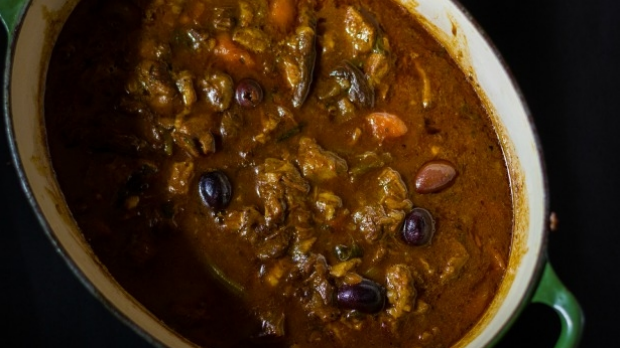 Memories of chilly winter days and mum's tasty braised meats inspired chef Matt Leahy of Ultimo Catering to share a special recipe of his own.
A hearty beef stew is a satisfying hunger-buster on a cold night – and serving it with polenta gives it a multicultural twist.
Listen to Chef Matt's segment with 6PR's Chris Ilsley below and scroll down to see the full recipe.
Hearty beef stew
Ingredients
1kg stewing beef
20mL cooking oil
50g flour
? a can of Guinness
1.5L beef or lamb stock
? tsp fresh thyme leaves
500g turnip and/or swede
500g parsnip
1kg carrot
2 onions
Chopped fresh parsley, to garnish
Seasoning
Method
Cut the beef into large chunks and dust with flour. Heat the oil in a large pot andadd the beef, season generously. Cook until nicely sealed and brown on all sides.
Add the Guinness and reduce by half. Add the stock and thyme bring to a boil then cover and simmer.
Peel the carrots, turnips, parsnips and onion. Roughly chop all the vegetables to bite sized pieces. After 40 minutes, add the vegetables to the pot and continue to simmer for another 40 minutes or until the beef is tender, stirring occasionally.
Take off the heat, cover and leave for 15 minutes. Garnish and serve.
(Stew can be made this up to two days ahead – remember to keep it refrigerated!)
To make the polenta:
Ingredients
500mL milk
500mL vegetable stock
1 bay leaf
3 thyme sprigs
250g polenta
50g butter
75g Parmesan cheese, grated
50mL extra virgin olive oil
Method
Bring the milk to the boil with 500mL stock, the bay and thyme. Turn off the heat and leave to infuse for 20 minutes, then take out the herbs and bring back to the boil.
Add the polenta in a slow stream, whisking steadily. Cook and stir until thickened and smooth, then add in the butter, parmesan and olive oil. Finish with a little black pepper
For more Perth Tonight stories, click here.