Chef Matt Leahy's freezable recipes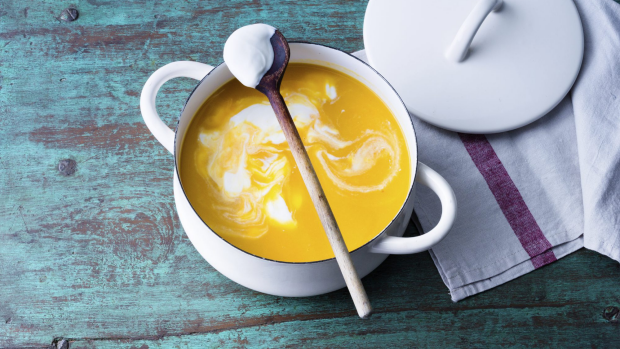 Looking for some gastronomic inspiration? Chef Matt Leahy, from Ultimo Catering, shared a few kitchen tips with Chris Ilsley. He also revealed the recipes for a perfect pumpkin soup and a sensational pink snapper sous vide!
Listen to the full interview below and scroll down the page to see the recipes.
Roasted pumpkin soup
Ingredients:
1 butternut pumpkin
Olive oil
3 cloves of garlic
Seasoning (salt and pepper)
Water (or stock, if you prefer)
Method:
Preheat the oven to 170?C. Cut the pumpkin in half and remove the seeds. If you like, you can keep the seeds for roasting.
Place the pumpkin on two large baking trays flesh side down and drizzle over a little olive oil. Season the skin with salt and pepper.
Roast the pumpkin for 1 hour, or until soft and slightly caramelised at the edges. With 10 minutes left, roast the garlic cloves as well.
When cooked, remove the pumpkin and garlic from the oven. Leave them to cool until you are able to handle them safely.
Scoop the pumpkin flesh from the skin and place in a blender. Add some seasoning and a touch of water or stock, then blend until the mixture is a smooth puree.
Into the freezer:
After the puree has chilled in the fridge, use a food saver and 'Vacpac' portioned amounts to freeze.
If you don't have a food saver, place portions into resealable 'Ziploc' style bags, remove most of the air and tighten. Remember to label the name and date.
When reheating, remove from the bag and place in a pot, add a little water and place on a low heat. Frequently stir and add water to get near the preferred consistency, then use some cream to finish.
For a garnish, try some chopped chives or roasted pumpkin seeds for texture, along with a drizzle of olive oil.
Sous vide pink snapper, roasted pumpkin puree, French beans and pearl barley
Ingredients:
Frozen pink snapper, defrosted (see below)
Frozen roast pumpkin puree, defrosted (see above)
Frozen French beans (see below)
250g pearl barley
75g butter
1 onion, finely chopped
2 garlic cloves, finely chopped
1 litre of vegetable stock (made from a stock cube)
2 sprigs of sage
Seasoning (salt and pepper)
Method:
Heat a pan of water to 60?C. Place the sealed 'Vacpac' or 'Ziploc' bag of snapper and leave to cook for 20 to 30 minutes. To check if it is cooked, give one corner of the fish a gentle squeeze – if it gives away it is done.
Reheat the pumpkin puree gently in a pot.
Quickly blanch the French beans in boiling water to bring to the right temperature.
Heat a large saucepan over a medium heat. Add 25g of the butter and, once melted, add the onion with a pinch of salt. Gently fry for 10 minutes, or until the onion is translucent. Add the garlic and continue to cook for two minutes.
In a separate pan, warm the stock and half of the sage leaves.
Add 25g of the butter to the onion, and once melted, add the pearl barley. Turn up the heat and cook for 2 to 3 minutes. Turn down the heat to medium and add a ladleful of warm stock. Stir well to mix and, once absorbed, add another ladleful, stirring now and again. Repeat this process until the stock is used up and the pearl barley is tender (about 30 minutes).
Once the barley is tender, season to taste with salt and pepper. Add the remaining butter to the pan and stir through.
To serve:
Swipe a large table spoon of puree on the plate, place the pink snapper on the puree but just off centre, place the beans along side with the pearl barley. Give a splash of olive oil and a squeeze of lemon juice.
Tips for pink snapper:
Buy the freshest pink snapper fillets as possible and ask if the product has been frozen previously. You could also buy pre-portioned frozen snapper fillets.
If fresh, cut the fillets to desired portions, around 180g to 190g. Place in a resealable 'Ziploc' style bag or use a food saver to seal tight with out air. Remember to label each bag with the date before freezing.
Tips for French beans:
Cut the tops and tails off. Blanch the beans for 30 seconds in boiling water, then cool in iced water. Portion to desired quantities and place in a resealable 'Ziploc' style bag or use a food saver to seal tight without air. Remember to label each bag with the date before freezing.
For more Perth Tonight stories, click here.