Campbell Brown's challenge to beat the channel and spare time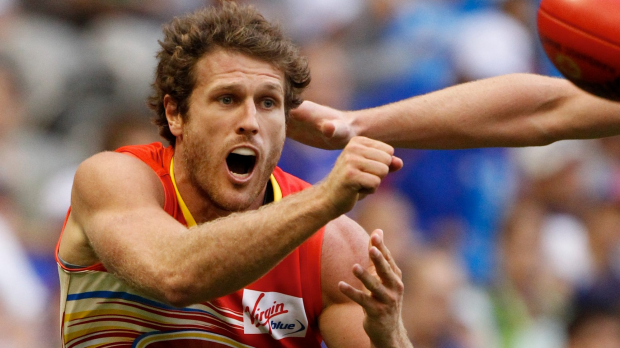 The idea of being told to throw back a longneck Guinness before bed and that no food is off limits sounds like heaven for most people.
But for former AFL hardman Campbell Brown it is now part of his new training mantra as he prepares for a crack at a solo crossing of the English Channel.
The crossing, slated for late July, is more to Brown than just a physical challenge. It is a key part of an overall strategy to ease himself away from AFL and in to the real world.
His retirement from the game in 2013, following a highly publicised incident with then Gold Coast Suns team mate Steven May in the US, left Brown in uncharted waters.
"Whether it's at 24 years of age and you are delisted or you are 30-plus when you eventually retire, you can't play football forever," Brown said.
"That part of your life is over and you need to reassess your goals and see what it is you want to achieve for the next 30 or 40 years."
Going from school life at the age 18 in to the regimented world as a professional footballer meant that Brown had never really known life without some form of structure.
Despite having a bachelor of commerce behind him the son of AFL legend Mal Brown is pursuing media opportunities.
This foray in to the media has presented "intermittent" opportunities that consume his weekends but leave his week days open.
And although the idea of having the week free may sound inviting to most of us, the thought of so much spare time is daunting to the junior Brown.
Knowing too well how some other former players haven fallen foul of the "idle hands are the devil's tool" trap, Brown decided to set his goal as a way of continuing some familiar structure in his life.
He turned to family friend, and his father's god-daughter, marathon champion Shelley Taylor-Smith.
Barely dry from Brown's team crossing of the Rottnest Channel in 2014, the pair plotted an 18-month course to have him ready for the arduous 32-kilometre English Channel crossing.
"The great thing about swimming is that I'm free to do it when ever I want and as my miles increase [in the pool] it chews up a lot of that spare time I have." he told Radio 6PR from Melbourne.
"I find it swimming very therapeutic and more enjoyable than [football] preseason. I was never a natural runner and it just got harder the older I got"
This weekend's Rottnest Channel solo swim will be the biggest test so far for Brown, who has undergone a physical transformation that will stun followers of his career.
Preparing for the environmental demands of open water swimming means he has had to abandon his lean 85-kilogram AFL frame and embrace the body of a marathon swimmer, by piling on an extra 10 kilograms of padding.
"It's a funny fitness. I can hit out 10 kilometres a day but I walked up a flight of stairs the other day and I've never breathed so hard in my life before. Fat is the swimmer's friend," Brown joked.
The solo crossing this weekend will give him the best idea of where he is in regard to his preparation for the July crossing. It will be the longest continuous swim he has attempted since embarking on the ambitious project.
And as he hits the water his greatest fear is not the possibility of being taken by a shark but not making the distance.
Campbell Brown is also raising money for the Shane Warne Foundation.