Brighton hostage situation: Two dead, three police injured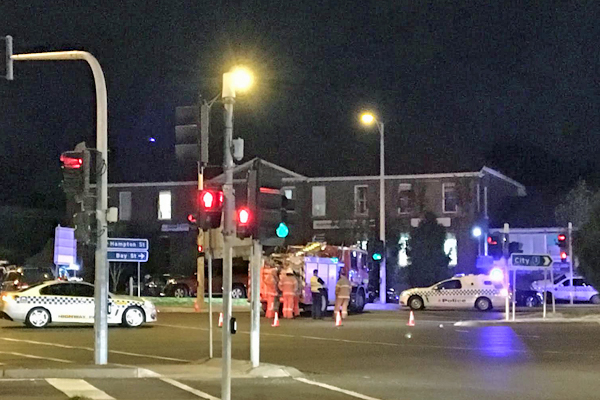 Photo: Ant Williams (@freediveguy/Twitter)
Two people are dead and three police officers have been injured during a hostage situation in Brighton that has been linked to terrorism.
Police were called to a serviced apartment building near the intersection of Bay Street, Hampton Street and the Nepean Highway just after 4pm Monday.
They arrived to find a body of a man in the foyer of the building. It appears he was shot.
Another man who was armed was holding a woman hostage in one of the rooms.
Police attempted to negotiate with him but, just after 6pm, a volley of shots were heard.
Police stormed the room and shot dead the gunman.
The woman was safely rescued.
Two of the three injured police officers have been taken to hospital, but none have life-threatening injuries.
Police are investigating whether the incident is terror-related.
TERROR LINK
Channel 7 reporter Paul Dowsley told Ross Greenwood his newsroom was called by a man claiming to be linked to the incident.
"My colleague could hear a woman screaming in the background and my male caller told my colleague 'This is for IS, this is for Al Qaeda'," he told Money News.
Earlier, Tom Elliott's 3AW Drive program was swamped with calls reporting a loud bang in the area shortly after 4pm.
"There were a couple of loud bangs – it doesn't sound like gunshots but I couldn't tell what it was," listener Anne told Tom Elliott.
Another caller to 3AW, Michael, had a similar report.
"We heard a BANG, followed by another one about 30 seconds later – another BANG – so we decided to leave in a hurry."
Click PLAY to hear from Anne and Michael