WA shuts border with Victoria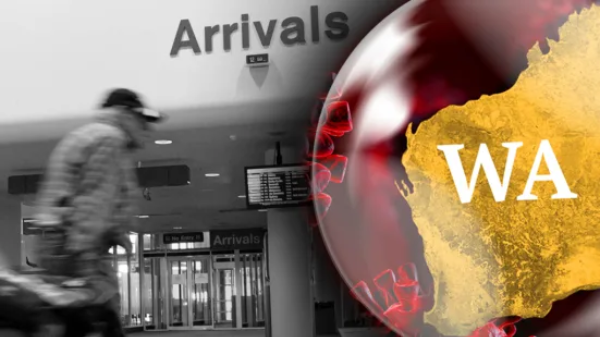 Victoria's border with WA will shut from midnight tonight as Victoria's COVID-19 outbreak continues to grow.
People will no longer be able to enter WA unless they are an exempt traveller.
Two new cases were recorded in Victoria this afternoon, bringing the number of cases detected in the past 24 hours to eight.
Three cases were detected yesterday, bringing the state's two-month long streak of no community transmission to an end.
WA Health Minister Roger Cook said this means Victoria will now transition from a "very low risk" state to a "medium risk" state from midnight tonight.
"This is an evolving situation that is changing day by day, even hour by hour," he said.
"Clearly we are dealing with an unpredictable situation that is likely to get worse before it gets better."
Anyone who has arrived from Victoria on or after December 21 must go into self quarantine for 14 days at a suitable premises.
They will also be required to present for a coronavirus test on day 11, or as soon as any symptoms develop.
"People who are here from Victoria can not go out tonight on New Year's Eve," the Health Minister said.
"COVID-19 doesn't respect dates, it doesn't respect celebrations."
Everyone who arrived in WA from December 21 will be contacted by police via the G2G system this afternoon.
Western Australian travellers who have recently travelled to Victoria and need to return may be given an exemption to return on compassionate grounds.
These exemptions will be assessed on a case-by-case basis by WA Police.
However they will be required to complete 14 days of self-quarantine and undergo coronavirus testing.
WA Police Commissioner Chris Dawson said thousands of people have arrived in Victoria from WA over the past 10 days.
"Since the 21st of December there have been over 16,000 people arrive in WA from Victoria by air or road," he said.
"This includes about 1500 people that have either, arrived already today, or are scheduled to arrive on eight flights from Melbourne into Perth Airport."
The department of health are preparing COVID clinics for an expected influx of people who'll need tests in coming days.
Western Australians who have come into contact with Victorian travellers are not required to self-isolate, but are being urged to get tested if they develop even mild COVID symptoms.
Another 10 new cases have been detected in NSW in the past 24 hours, prompting Victoria's border with New South Wales to shut from midnight tomorrow as well.
Meanwhile WA has recorded two new cases of COVID-19 overnight, both return overseas travellers in hotel quarantine.
6PR News Reporter Jake Battrick joined Karl Langdon on Perth LIVE this afternoon to discuss the border closure.
Click play to hear more.
Click play to watch the full press conference.