Barnett fails to deliver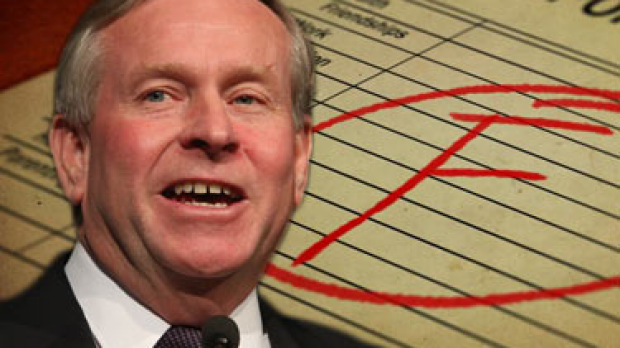 The Barnett government's delivery of pre-election commitments has been given a fail mark from analysts with only 8 of 22 projects promised underway. Gary Adshead spoke to political analyst Martin Drum from the University of Notre Dame about the issue.
Stay up to date on breaking news with 6PR on Twitter  
The government has released a day by day election commitment chart that details the day, date, promise and state of that promise.
Read that government analysis here for yourself.
TUES 29 JAN
√ Free public transport for carers
A Liberal Government, if re-elected, will provide free travel on any Transperth bus, train or ferry during off-peak periods for carers 
FULFILLED (took effect May 2013)
WED 30 JAN
√ Improved safety for rockfishers
A Liberal Government if re-elected would provide $300,000 over three years to provide enhanced safety measures for rock fishers at popular locations along the WA coast 
ON TRACK ($300,000 over two years allocated in the 2013-2014 State Budget, measures being rolled out in consultation with local communities) 
SUN 3 FEB
Electronic school zone lights
A Liberal-led Government, if re-elected, will install electronic flashing speed signs at every 40kmh school zone across the State to improve the safety of Western Australian children at a cost of $36m over four years.  
ON TRACK ($36 million allocated to 2016-2017, rollout progressing)
WED 6 FEB (ISSUE OF THE WRITS)
Toughest penalties for violent home invasions
Liberal Government will introduce tough new mandatory minimum jail terms for any adult offender who commits serious physical or sexual assault during burglary; will also close three strikes burglary loophole
FULFILLED (Legislation introduced)
THURS 7 FEB
Announcement of new State CCTV Network
$13.5million for more CCTV cameras, establishment of a State CCTV Strategic Plan and centralised access meaning more cameras in more places
PENDING ($1.5m allocated for planning to date)
Palliative care
Increased funding by $20m over 4 years for palliative care
ON TRACK (Funding committed in 2013-14, 2014-15 Budgets through to 2016-17)
FRI 8 FEB
New liquor service laws
A Liberal Government, if re-elected, will give people the ability to purchase alcohol without a meal at restaurants
FULFILLED (new regulations effective July 1, 2013)
Edgewater train station multi-storey car park
$47m for multi-storey car park at Edgewater train station to encourage more use of affordable, public transport and help to reduce congestion on our roads
ON TRACK (Committed $46.5 million in 2013-2014 State Budget over three years for development and construction)
Tourism boost
$24m in additional tourism marketing over four years
ADJUSTED ($13m allocated from 2013-14 to 2016-17)
SAT 9 FEB
Announcement of China Town Revitalisation
$2million to revitalise Chinatown and laneways in Northbridge
FULFILLED (Funding allocated in 2013-14 Budget. New entry statement completed, stage 2 to follow)
SUN 10 FEB
Airport Rail
If re-elected, will build the $1.9b Forrestfield-Airport rail link transporting domestic and international passengers to Perth Airport's front door by 2018
ADJUSTED ($683m committed over 4 years; delivery timeframe pushed back to 2020)
MON 11 FEB
MAX Light rail
If re-elected, will build the $1.8billion MAX Light Rail project by 2018
ADJUSTED (timeline for delivery adjusted to 2022; construction to start 2019)
River funding
$16.25m funding package for Swan and Canning Rivers
ADJUSTED ($3.5m over four years from 2013-14)
Funding for Hartfield Park sporting complex, Forrestfield
$6million makeover for Hartfield Sporting Complex with a new skate park, three new hockey fields, new soccer grounds, lighting and water harvesting
FULFILLED (Allocated $6.01 million over three years from 2013-2014. A Financial Assistance Agreement has been progressed with the Shire)
Funding announcement for undercover basketball facility at Mundaring Rec Centre
$3million for covered basketball courts in Mundaring
FULFILLED (Allocated $3 million from 2014-2015 to 2015-2016 for Mundaring Basketball Courts)
TUES 12 FEB
Announcement of Midland University
$22million and State Government land provided to help Curtin University establish Midland campus, including medical school
PENDING (Govt's commitment reaffirmed last month; funding will be allocated as part of regular Budget processes once agreement has been reached with the Federal Government on the medical school)
WED 13 FEB (Bunbury)
Parks for People
Parks for People: $20m for more low-cost holiday options in national parks and reserves
Western Australian Parks Authority (WAPA) and Department of Environment Regulation (DER) to be created
FULFILLED ($40.7m from the State Government's Royalties for Regions program allocated in 2013-14 Budget for tourism and the environment, including $21m to improve camping and visitor facilities in WA's national parks)
New $15m science/conservation headquarters to be built at Bunbury, including $3m for scientific/conservatory efforts at Leschenault Inlet
PENDING ($250,000 allocated in 2014-15 Budget for further planning/site evaluation)
Police Incentives
If re-elected, will provide $10.5m of incentives to attract police officers in hard-to-fill regional locations
Will introduce mandatory blood testing for offenders who bite/spit at police
FULFILLED ($10.5m over four years allocated in 2013-14 Budget for incentives via R4R; mandatory blood testing legislation introduced May 2014)
Coalfields Highway announcement
Another $28million for more upgrades to Coalfields Highway
ON TRACK ($27.5m allocation over four years in 2014-15 State Budget; environmental approvals progressing)
THURS 14 FEB
Additional parking at Osborne Park Hospital
Osborne Park Hospital to get up to 500 new car bays
ON TRACK ($3.5m allocated to deliver 500 bays)
FRI 15 FEB
Police Numbers
A Liberal Government will recruit a total of 720 police officers over the next four years if re-elected (720 officers will include 550 additional officers as well as the 170 officers the Government will recruit by 2013-14)
ON TRACK ($215m allocated in 2013-2014 Budget for additional 400 police and 150 police auxiliary officers; also covers the recruitment of remaining 170 officers from the 2008 commitment)
Accompanying $67m capital works upgrades to accommodate additional police- including $12.5m for Ballajura police station
ON TRACK ($67m Budget allocation over four years; Ballajura PS on track to start construction 2015/16)
Treendale Bridge
$18m for bridge over the Collie River to link Treendale and Eaton by 2016
ADJUSTED (construction to start 2016; delivery end 2017; funding committed under Safer Roads and Bridges program)
SAT 16 FEB
√ Greater protection for WA fire fighters
$12.3m for extra protective equipment in 667 firefighting vehicles that operate in high risk bushfire areas
ON TRACK ($12.3 million in 2013-2014 State Budget over four years; upgrades being rolled out)
SUN 17 FEB
Hoons
Hoon vehicles can be confiscated for a first offence on roads in built up areas if the offence affects other people or damages property
Additional resourcing for police and new covert CCTV cameras to catch hoons
ON TRACK (Legislation being drafted; expected to be introduced in second-half 2014; $170,000 allocated in 2014-15 Budget for CCTVs)
MON 18 FEB
Rapid Justice
streamlining criminal justice system and freeing up police to focus on the frontline through funding for night/Sunday courts and regional videolinks
ADJUSTED (funding allocated to operate Sunday court, regional video links; night courts not proceeding after consultation with judiciary)
Child Health Nurses
Additional 155 school nurses for WA schools
ON TRACK ($38m allocated in 2013-14 Budget to employ 110.6 metro FTE and 44.9 FTE by 2016-17)
TUES 19 FEB
FutureHealth
Liberals to invest an additional $30 million over four years in health and medical research
ADJUSTED ($12m allocated in 2013-14 Budget; remainder allocated from within Health Budget)
WED 20 FEB
Crime hotspots
$7.7million crime hotspots package to deliver greater police presence and rapid response
Additional police patrols and extra mobile police facilities in crime hotspots
PENDING (no Budget allocation)
Passing lanes- Gt Eastern Hwy
$48m for 15 passing lanes between Southern Cross and Kal-Boulder 
ON TRACK ($26m allocated to date; to be completed in conjunction with Walgoolan to Coolgardie upgrade and widening program- total $67.1m allocation)
THURS 21 FEB
More funding for ScreenWest
A Liberal Government, if re-elected, will commit $2million to ScreenWest to establish a new Production Attraction Program
FULFILLED ($2m allocated over four years from 2014-15)
FRI 22 FEB
Seniors Package
Liberals' $200 CoLA to be extended to people in group living arrangements
Indexation of Country Age Pension Fuel Card
FULFILLED
Launch of $5.3million Grandcarers Support Scheme
ADJUSTED (funding allocation revised; scheme will cover all eligible grandcarers)
Extension of Seniors Safety and Security rebate
ADJUSTED (funding allocation revised, rebate focused on personal safety devices)
Women's refuges
A Liberal Government, if re-elected, will build two new refuges in Perth to house women
and their children escaping domestic violence
ON TRACK ($3.5m capital and operating funding allocated for first refuge in 2013-14 Budget; awaiting decision on second site)
SUN 24 FEB
Nurses Pay
A re-elected Liberal Government will give nurses a 14 per cent pay rise over three years
FULFILLED
More funding for PCYCs
-A re-elected Liberal Government  will provide $10million in infrastructure funding to PCYC and
30 police officers to work with young offenders/at-risk youth
FULFILLED ($10m allocated over two years in 2014-15 Budget)
MON 25 FEB
Science Package
Once in a generation investment opportunity includes $15million for Scitech's new home, $428million new museum and continuing support of SKA
ON TRACK ($5m in 2013-14, plus $225m over four years allocated in 2014-15 Budget to deliver new museum by 2020; Govt remains committed to new Scitech location, with Budget allocation subject to site selection and agreement by both parties)
Agriculture 
$40million in funding to boost biosecurity and research and development
ON TRACK (2x $20m committed as part of $300m R4R allocation over four years from 2013-14)
TUES 26 FEB
Perth to Darwin Hwy (NorthLink WA)
Funding to start construction of new highway to redirect trucks away from the Swan Valley
ON TRACK ($32m allocated in 2013-14 + $641.6m over four years from 2014-15 – including Fed funding)
Payroll tax relief
Increase threshold to $800,000 in 2014-15; $850,000 by 2016-17
FULFILLED (funding allocation in 2013-14 Budget)
WED 27 FEB
More road safety measures
A re-elected Liberal Government will spend $22.6million over four years to build nine new passing lanes on Albany Highway to improve road safety on the Great Southern's major thoroughfare
ON TRACK (full allocation in 2014-15 Budget over 3 years)
$12m to upgrade Great  Eastern Hwy, Mundaring
ON TRACK (funding committed in 2014-15 Budget)
Joondalup Arena
Liberals announce $20million multi-sport expansion of Joondalup Arena ($11million for new basketball centre, $8million for new West Perth football club, $600,000 for new netball courts and $400,000 for new rugby field
ON TRACK (full allocation committed in 2013-2014 Budget over four years) 
THUR 28 FEB
Residential reforms
Revised Residential Design Codes to allow non-residents to occupy granny flats and increase allowable floor space
FULFILLED (adopted in August 2013)
FRI 1 MAR
Emergency rescue helicopter
Funding for new rescue helicopter to service the communities of the South-West and the Great Southern
ON TRACK ($15.3m in capital and recurrent funding allocated in 2013-14 Budget for delivery in 2015-16)
SAT 2 MAR (Collie)
Bike Paths
Complete Principal Shared Path Bicycle Network
ON TRACK ($47.1m allocated for principal shared paths, plus local government grants over 4 years)
SUN 3 MAR
KidsCulture Package
A Liberal Government will introduce a new $3.4million KidsCulture program to engage Western Australian children in need to a range of dance, arts, music and theatre activities, starting with trials Albany and Stirling.
ON TRACK ($140,000 allocated for pilot programs in Albany and Stirling; further funding to be allocated once trials complete)
Community Gardens
Liberals commit $400,000 over four years to establish more community gardens
FULFILLED (full allocation in 2013-14 Budget)
ACROD Permits
Govt to support >67,000 West Australians with a disability through free ACROD permits
FULFILLED (allocated in 2013-14 Budget)
Underground Power
$30m over four years to continue undergrounding power lines
ON TRACK ($10m/yr through to 2017-18; stage 6 being rolled out)
MON 4 MAR
Graffiti Policy
A re-elected Liberal Government will ensure adult and juvenile offenders will have to clean up graffiti they cause
PENDING (Legislation anticipated to be introduced in the second half of the year; funding to be allocated as part of Budget processes once legislation passed)
Health for the regions
Full-time health professional for Fitzroy Crossing
ON TRACK (funding allocated over four years as part of 2013-14)
$8m for regional ear health
ON TRACK ($6m over four years in the 2013-14 Budget)
TUES 5 MAR
Training Package
A Liberal Government, if re-elected, will develop a new strategic direction for Vocational Education and Training (VET) in schools to better equip students and improve the quality of training and apprenticeships on offer
FULFILLED (reforms announced 9 April 2014)
Centennial Park
$8.75m for Albany's Centennial Park development
PENDING (awaiting Budget allocation)
Government Accommodation
A re-elected Liberal Government would move more than 500 State Government employees to a new building in the heart of Joondalup
PENDING (business cases being prepared)