Bairstow claims struggling England are in a 'good place'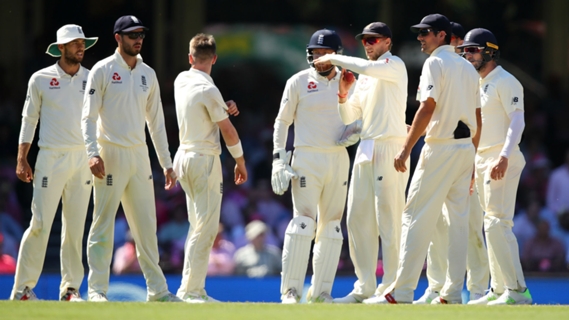 Jonny Bairstow said there has been no "in-fighting" or "fractures" in the England squad despite a tough tour of Australia.
Jonny Bairstow claimed England are in a "good place" despite another gruelling day in the field as Australia strengthened their grip on the fifth Ashes Test at the SCG.
Usman Khawaja (171) made a magnificent century, while Steve Smith (83), Shaun Marsh (98 not out) and Mitchell Marsh (63no) also made the tourists toil in the Sydney heat on day three.
Australia are well on course to win the series 4-0 on 479-4, leading by 133, but Bairstow says England remain united and in good spirits.
"It was a pretty tough day. We are 150 overs into the innings so there's going to be a few tired bodies out there. It's not the first time and it won't be the last time." the wicketkeeper-batsman said.
"The way the guys toiled out there was really impressive and it was really good for us to see.
"I don't think there's too much raising of spirits [needed]. We are in a good place. The games haven't necessarily gone well but there's been no in-fighting in the squad.
"There's been a few things thrown at us but at no point has there been any fractures within the group and that's a huge positive."
Bairstow stumped Khawaja to give debutant Mason Crane his first Test wicket and has been impressed with the 20-year-old leg-spinner, who would have had the left-hander lbw just before lunch but was adjudged to have bowled a no-ball.
"I thought he bowled nicely," Bairstow said. "He's not played a huge amount of first-class cricket so to come into an Ashes Test match and bowl 35 [39] overs as a 20-year-old leg-spinner, it stands us in good stead moving forward.
"He'll have taken a lot from that and he'll have taken a lot of confidence."
He added: "As I said last time I spoke to the media, let's not get ahead of ourselves. The skills of a leg-spinner are going to be progressive but as a start, I thought it was impressive."