Amazing photo of plane crash in Taipei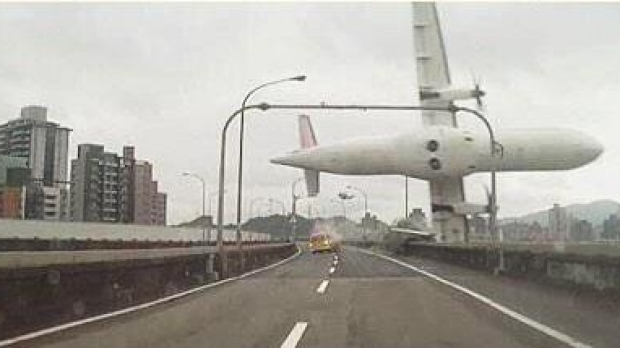 A TransAsia Airways Corp. turboprop plane crashed into Keelung River near Taipei today, Thomas Wang, a spokesman for the Aviation Safety Council said.
Flight GE 235 from Taipei to Kinmen crashed at about 10:45 a.m. local time, according to Wang. Ten people were rescued and 40 people were injured in today's crash, Apple Daily reported. The plane had 53 passengers and five crew, it said.
#Transasia #ATR72 – dashcam via @Missxoxo168 correlates w/wider pics of scene. Bloomberg: http://t.co/BOpbjokhfa pic.twitter.com/5AliUZ5TJs ? Tom Grundy (@tomgrundy) February 4, 2015
It's not known how many people were on board the ATR-72 aircraft, a propeller plane made by Toulouse, France-based ATR. It's reported that at least 10 people were taken to the hospital, local media TVBS reported.
A TransAsia turboprop plane crashed in July last year, killing 48 people.