Allergy free but full of taste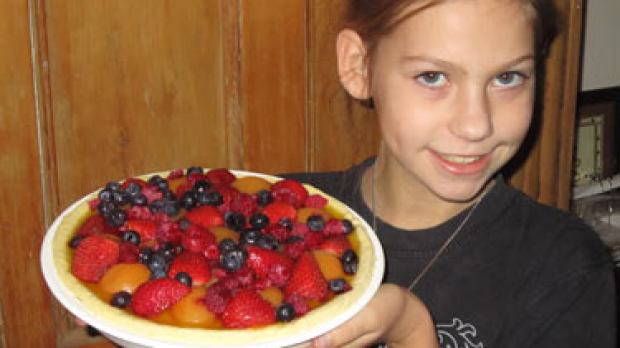 Allergy free and tasty. Is it even possible? Well one of the food pics sent in by a listener for Paul's Pics competition has proven that it is. Megan Bakota suffers from many allergies but they haven't stopped her from creating some great meals. See her recipes here.
Golden Syrup Dumplings
Ingredients : 1 1/2 cups of Self-raising flour
                        50g Nuttelex margarine ( dairy free and available in most supermarkets )
                        125mls of soy milk ( have used rice milk instead )
                        1 teaspn vanilla
                        2 cups of water
                        1/2 cup golden syrup
                        1/2 cup brown sugar
Method :
Sift flour into a bowl and rub in the margarine until it looks like breadcrumbs.
Add the vanilla and chosen milk and stir until well combined.
Put water, golden syrup and sugar into a large saucepan. Stirring, bring to the boil.
Put the prepared spoonfuls of dumpling mixture into the boiling syrup.
Cover and cook for about 10 minutes.
 
Yummy on their own or with soy ice cream.
 
Choc-Apple Cake
Ingredients : 400g tin of pie apple ( or drained home stewed apple )
                        1/4 cup water
                        1 teaspn bi-carb soda
                        125g Nuttelex margarine
                        1 cup sugar
                        2 cups of SR flour
                        2 dessertspoons of cocoa
                        1 teaspn vanilla
Method :
Gently heat the apple, water and bi-carb soda in a small saucepan.
Cream the Nuttelex, sugar and vanilla together with mixer.
Add the sifted SR flour and cocoa and then gently fold in the slightly cooled apple mixture.
Pour into a ring tin pan and bake in a moderate oven for around 35 minutes.
Cool in the tin for about 5 minutes and then place on a cake cooling rack.
* Can be served warm with soy custard or ice-cream.
* Or cold, and iced with favourite chocolate icing.
* For a change, you can replace the cocoa with custard powder, for a different flavour. Both taste good!
 
 
Fruit Custard Flan
Ingredients :
1 sheet gluten-free, wheat-free, dairy-free, soy-free, sweet shortcrust pastry
1 x 85g pkt of pineapple jelly crystals
140g tinned apricot halves, drained
250g strawberries, hulled and larger ones cut in half.
75g raspberries
75g blueberries
Custard Filling :
3/4 cup gluten-free, wheat-free, dairy-free custard powder
3 cups (750mls) rice milk
3 tbspns caster sugar
2 teaspns vanilla essence
* Make sure you buy egg-free pastry and custard powder, if allergies to egg!
Method : 
Preheat the oven to 170C. Grease a 23cm fluted flan tin.
Place the pastry in the tin and trim the edges. Line the pastry case with baking paper, fill with baking beads or rice and blind bake for 10 – 15 minutes or until slightly golden. Remove the paper and beads/rice and set aside to cool.
Meanwhile, to make the custard filling, blend the custard powder with 2 tbspns of the rice milk to form a smooth paste. Combine the sugar and remaining milk in a medium saucepan over medium-high heat and bring almost to the boil. Reduce the heat to low, then add the custard paste and vanilla and stir until well combined and the custard is thick. Pour into the pastry case and chill in the fridge for 1 hour.
In a heatproof jug, prepare the jelly according to the packet directions but use only half the quantity of water. Set aside in the fridge until just starting to set.
Remove the flan from the fridge. Arrange the apricot halves over the custard, followed by the strawberries, raspberries and blueberries.
Slowly pour the pineapple jelly over the fruit to cover in a thin layer and fill the spaces between the fruit. Return the flan to the fridge and leave to chill and set for 2-3 hours before serving.
 
Recipe adapted from : allergy-free cooking recipe book by Dr Sue Shepherd