Ahmed Saad re-drafted as rookie at Saint Kilda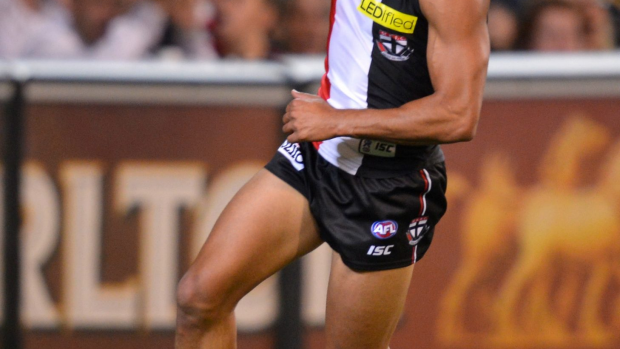 Born-again St Kilda forward Ahmed Saad is finally back on an AFL list and declared on Wednesday he "can't wait to get into it."
The 25-year-old was delisted at the end of 2013 after being banned for 18 months for using an illegal energy drink. St Kilda selected him with pick 19 in the rookie draft, giving the small forward the chance to resume his 29-game AFL career.
Carlton had shown interest in Saad, who met Carlton coach Mick Malthouse in recent weeks, but when the Blues used their first choice in the draft on teenager Billy Gowers the Saints were free to swoop, allowing Saad to be reacquainted with his old teammates.
"[I'm] absolutely rapt that the Saints showed faith again and there's nowhere I'd rather be than here," Saad said on Wednesday after being greeted by Sam Gilbert, Sam Fisher, Farren Ray and Leigh Montagna during a club visit to an aged persons home at Hastings.
"The media talks, there was interest from clubs and up until this morning I had to wait like every other player in the rookie draft and see when my name got called out," Saad said.
Having kicked 45 goals across his two seasons at the Saints, Saad offers a handy attacking option for St Kilda, who were heavily reliant on captain and best and fairest winner Nick Riewoldt to kick a winning score in 2014. Riewoldt kicked 49 goals this year, with the now-departed Rhys Stanley the next best at the club with 18.
Advertisement
Though the terms of his ban mean he will not be able to train again with the club until January 1, Saad believes he can work his way up to the senior list and into the Saints' line-up for the opening-round clash with GWS.
"I've come back in good shape and my results have proven that," he said, "so I'm definitely doing everything I can. I've got a personal trainer and he's got me in really good shape.
"I've put in all the hard work on my own, so as soon as I get back with the team it'll be easier for me to get back with the team and actually train and do everything like that. I'm just going to put me head down and work hard and hope that I can come back and play round one.
"I've missed a year of footy, I don't want to miss any more, so I want to do my best to get back into the team."
With his 18-month exile for drinking an energy drink containing a banned stimulant all but over, Saad was beaming as he reflected on the difficult journey he had been through since testing positive midway through 2013. He was thankful for St Kilda's moral support throughout the ban.
"I tried to stay positive, as much as I can, to control everything I can control. What happened happened, and I got banned for it. I just had to cop it on the chin.
"As soon as I found out it was just going to be one season I made sure I put in all the hard work so I could give myself the best chance to come back. Rules are rules and what I did is wrong, but it is what it is."
St Kilda recruiting manager Tony Elshaug was glad the club had been able to land their man in the rookie draft's second round, despite the interest from other clubs.
"When we drafted Ahmed three or four weeks ago we were excited then, and we're just as excited now," Elshaug said.
The Saints also claimed small midfielder and forward Jack Sinclair, the grandson of former Saint Bill Gleeson, tall utiliy Brenton Payne, the grandson of dual Essendon premiership player Charlie Payne, and rookie-listed veteran Adam Schneider.