AFL family mourns Phil Walsh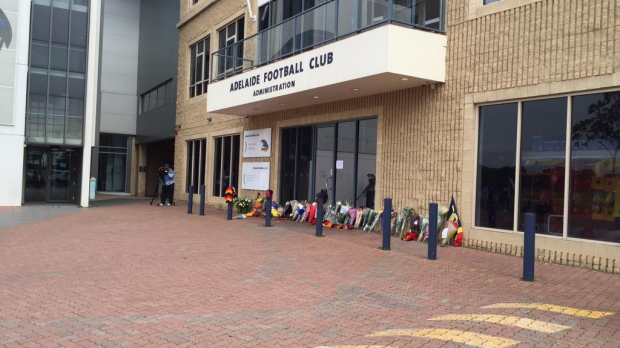 AFL clubs, footballers, former team mates and officials have offered their condolences as the news of Phil Walsh's death broke this morning.
Many took to social media to express their shock and disbelief.
On behalf of everyone at our Club, thank you for all the support and messages of love and support pic.twitter.com/WHAtUmYrhH

? Adelaide Crows (@Adelaide_FC) July 3, 2015
Tragic news to wake up to this morning regarding Phil Walsh. Thoughts go out to his family and all affected.

? Chris Judd (@cjayfive) July 2, 2015
The thoughts and prayers of everyone at the club are with the Walsh family and @Adelaide_FC

? West Coast Eagles (@WestCoastEagles) July 2, 2015
So sad to hear of Phil Walshs death. No sense to it. We are all flesh and blood. Love each other. Thoughts with all family and friends.

? Nathan Buckley (@ncb_cfc) July 2, 2015
An incredibly dark day. Our thoughts are with the family & friends of Phil Walsh along with the entire @Adelaide_FC community. Rest in peace

? GWS GIANTS (@GWSGIANTS) July 2, 2015
All at St Kilda extend their sympathies to Phil Walsh's family and @Adelaide_FC at this devastating time. There are no words. #RIPPhilWalsh

? St Kilda FC (@stkildafc) July 2, 2015

This from the great man on the day I retired. Advice I'll take with me forever. pic.twitter.com/GRw11O2Gfb

? Kane Cornes (@kanecornes) July 3, 2015

AFL Chief Executive Gillon McLachlan made the following statement today.

Friday July 3

Thank you all for coming.

Our game is in mourning today, and I speak for the whole of the AFL, our clubs, our players, our fans, and our staff in passing on our deepest sympathies to Phil Walsh's family and friends.

The sorrow and distress felt today touches many in our industry because Phil Walsh gave such a lot to our game.

Phil made his debut in 1983 playing for the Collingwood football club. He played then for Richmond and the Brisbane Bears.

In different roles, he coached at Geelong, Port Adelaide and West Coast.

And of course he was the Adelaide Crows Senior Coach. He was a man of boundless energy, enthusiasm and great intelligence.

He was a part of the AFL family for at least 32 years, and there are not many words of comfort today for those who feel this terrible loss, in these most difficult of circumstances.

To his family, we can only say that your loved father and husband is in all our hearts, and whatever support we can offer, we will.

To the Adelaide Football Club, the AFL industry is with you, in thoughts and action today, offering all the support we can.

Today, I have spoken with many people in the industry, briefed all our club CEOs and Presidents, and the AFL Commission.

There have been discussions about the game on Sunday and even about playing this round.

We have decided that the game on Sunday between Geelong and Adelaide will not go ahead.

This is a decision of the competition, as a mark of respect to Phil Walsh.

And it is our decision, because, while playing footy can be part of the grieving process, we are strongly of the view that is it not fair to ask the young men at the Adelaide Crows, or the Geelong Cats to play in these circumstances.

This decision has the support of the clubs and the Players Association.

The premiership points will be split between the two clubs, as per the AFL rules.

We know that this decision impacts on a lot of people, including supporters and fans, including those who may have travelled or intend to travel.

We are working closely with all our partners on these issues, and the AFL and Club websites will keep members and supporters updated on arrangements.

The remaining 7 games from tonight will go ahead.

We know that the usual fun and passion of our game will not be there, but we also know that our clubs, members and supporters will gather in a spirit of respectful mourning, and in support for the family and friends of a great football man, who is loved by so many.

I want to finish by again offering the deepest sympathy to the Walsh family. The thoughts of the whole football family are with you today, and in the difficult days ahead.