Acres hears Richo's message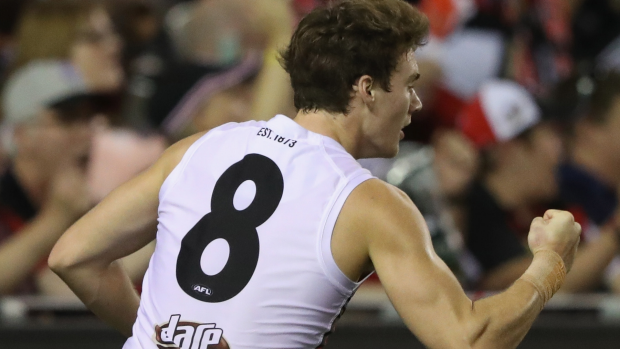 Blake Acres says Allan Richardson's hard but fair style helped him to the round six NAB Rising Star nomination.
Acres, a West Australia recruited from West Perth, played in round one before being dropped to the VFL only to return in round four and dropped again before his round six nomination.
The 20-year-old earned the round six nod on the back of a 28 possession performance along with two goals in St Kilda's win over Melbourne.
Speaking on Sports Today, Karl Langdon said he felt Acres was unfortunate to be dropped after his round one performance.
'The message has been pretty clear from Richo, he doesn't want to accept three-quarters or a half of good footy,' Acres said.
'And then in the Hawthorn game there were a few contests I wasn't tough enough in and I saw them in the clips and put my hand up and said I was in the wrong.
'I was omitted because of my own faults. It was the right decision. Richo knows what he's doing.
'It's great having a coach like Richo, he's very straight forward and honest with you.
'He tells you straight to your face why you've been dropped.'
Listen to the full chat.