Abbott 'I used to be radical'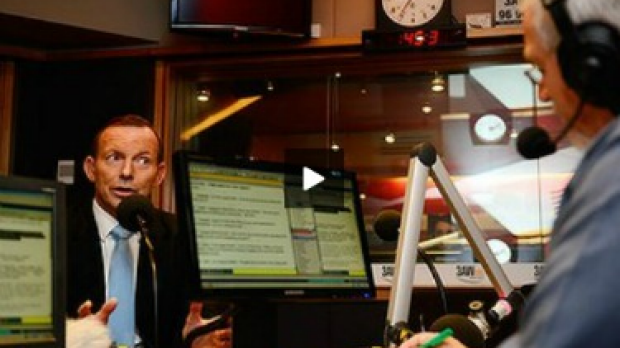 Tony Abbott has played down the seriousness of rising student unrest that prompted federal police to recommend against visiting Geelong today.
Mr Abbott said his trip planned with Education Minister Christopher Pyne and Premier Denis Napthine was cancelled to avoid taking '50 police officers' off the street.
And he insisted he has more in common with the protesters than they might realise.
'I was a radical student myself once upon a time,' he told Neil Mitchell.
'It was sport, really, going to protests and counter-protests.
'I think they were looking forward to a big rumble today and my interest is in calmly, carefully explaining to the Australian people why this budget is necessary to look after this country for the long-term.
'Giving the students an excuse for a riot was not going to serve that purpose.'
LISTEN: 'Do you feel hated?' – Tony Abbott with Neil Mitchell – Pt 1
LISTEN: 'Will you broaden the GST?' – Tony Abbott with Neil Mitchell – Pt 2
READ NEIL MITCHELL: 'It's a dark day for Australia'
The students are making no apology.
In a fiery interview with Neil Mitchell, Socialist Alternative leader Naomi Farmer had fighting words for the Prime Minister.
LISTEN: The fiery interview with Neil Mitchell and Naomi Farmer
'I promise that if Liberal party members want to come onto university campuses, there will be students prepared to shout at them,' she said.
'I promise to maintain my democratic right to protest, and protest for the rights of my brothers and sisters who are under one of the biggest attacks on the working class in this country.'
Having problems listening? Upgrade your media player for Internet Explorer, Google Chrome or Firefox.