8's enough. Blues win Origin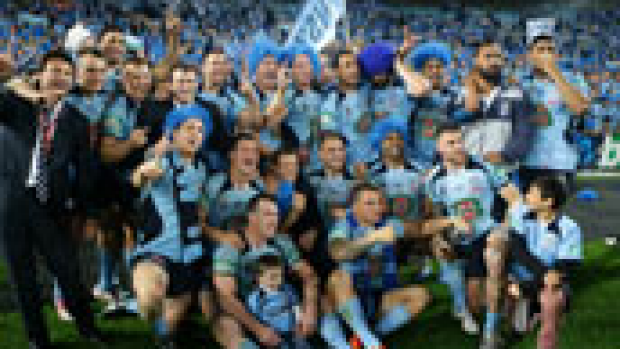 It's been a long time between drinks but New South Wales have wrested the coveted State of Origin shield from the grip of the northern hoards and restored honor back to the south. Sounds a little melodramatic? Then listen to proud Maroon Richard French's ode to the loss.
Stay up to date on breaking news with 6PR on Twitter  
Two hours after fulltime with the stands empty, NSW players returned to their field of battle to celebrate a triumph for the ages.   
In scenes reminiscent of Australia's Ashes celebrations at the SCG back in January, the Blues stars, and their coaches and staff, ventured out to the middle for a team huddle and photo that was just about them.   
The only stipulation from Stadium officials was that the players swap their stubbies for cans.   But once that slight health and safety hurdle was overcome, the Blues left the dressing sheds and made their third trip down the tunnel that night – only this time with beers in hand.   
There was no official booze ban during NSW's two State of Origin camps in Coffs Harbour, but the pre-game bonding sessions were essentially dry.   
The new approach is reflective of the Blues' single-mindedness to finally end Queensland's eight-year State of Origin reign.   
But with the war won, nothing was going to stop the Blues from celebrating.   'Geez, anyone in NSW that wants to have a beer, just come and find me. I'll be at a pub somewhere,' said hooker Robbie Farah, relieved that Wests Tigers have the bye this weekend.   'The only thing I'm thinking about is how many beers I'm going to be drinking the next few days.   'We've overcome all the odds this year and we've finally done it. No one can take it away from us.'   
Although match-winner Trent Hodkinson had to be slightly more circumspect about his celebrating, with Canterbury to play Friday night.   'Couple of beers tonight and celebrate with the boys. But then we've got to turn around and go to Canberra,' he said.   
When the full-time hooter sounded and Jarryd Hayne bounded over the dead-ball line and nearly out of the stadium, pandemonium broke out at ANZ.   Hayne avoided singeing himself in the giant flames behind the goal posts, wrestled off a pitch invader and hoisted himself onto the fence in front of Blatchey's Blues, where he hyped up the sea of NSW fans.   
Coach Laurie Daley fist-pumped more times than Lleyton Hewitt as he sped down from his coaching box and raced towards his skipper Paul Gallen for the biggest of bear hugs.   Next it was Farah's turn to leap into Daley's arms.   
Josh Reynolds gave NSW's cockroach mascot a piggy back and game one heroes the Morris brothers, Josh and Brett, raced, or rather hobbled out to join in a victory that also belonged to them.   
On the big screen, the Sydney Harbour Bridge lit up blue with fireworks cascading down like it was New Years Eve.   Who said NSW didn't care about Origin?   When the players returned to the sheds, things fell quiet for a while as reflection took over.   Then the sponsor's product started flowing.   
Premier Mike Baird summed it up best on a Sydney radio station when he borrowed from a line from Bob Hawke: 'I think that any boss who does not let their employees go home early to celebrate the Blues win is a bum.'