6PR Fishing Report November 27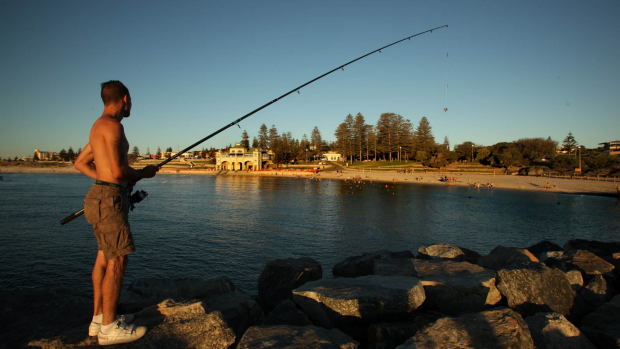 PERTH:
Small boat fishers trolling bibbed minnows and metals around the drop offs in the lower reaches of the Swan have been picking up tailor to 60cm ? huge for river tailor. Spinning similar style lures has also been productive on the tailor in these areas. Flathead are starting to become more active as the water temperatures increase. Soft plastics and clouser flies have been effective for spin fishers and fly fishers respectively. Black bream were a little quieter in both systems this week and the yellowfin whiting around North and East Fremantle have been rather hard to tempt. Giant herring are about, however those who have been lucky enough to stumble across the aerobatic speedsters have been keeping the precise location of their encounters close to their chest. An estimated 20kg mulloway was landed at The Narrows recently and smaller fish have been coming from the Blackwall Reach and Mosman Bay depths. Tailor between 35 and 55cm have been turning up most mornings and evenings along the Mandurah to Secret Harbour stretch. North Mole, Cottesloe Groyne, Grant Street, Floreat Drain and Trigg Beach have been among the metropolitan beaches to produce tailor catches. Tailor between 2 and 3kg have occasionally been caught at Two Rocks and Yanchep. Squid continue to be caught along the seagrass beds off Fremantle together with a few cuttlefish. Samson fish have been found schooling in 40 to 60m of water off Rottnest Island.
SOUTH WEST:
The boats targeting King George whiting have been picking up better numbers and bigger sizes along the inshore waters off Abbey Beach. Squid have been caught along the seagrass beds off there as well as out from Quindalup and Eagle Bay. Herring are in good supply through Geographe Bay and along the west coast. Yellowfin and school whiting numbers are increasing along the Quindalup sand flats. Small schools of salmon and the odd stray fish continue to be caught at Bunker Bay, Yallingup, Mitchells and Hamelin Bay. Elmore Road continues to fish well for tailor early morning and evening.
ALBANY:
Shore-based fishers armed with tackle normally used to target big giant trevally around WA's northwest have been hooking, and sometimes landing, huge samson fish from the rocks at Emu Point. The sambos have been present in the channel there for the past few months and seem to have a penchant for live squid, yellowtail and herring. The biggest sambo landed at the rocks was estimated at 50kg and there are some lurking in the waters that are thought to be more than 60kg. A stiff rod and 100lb to 130lb braided line is apparently what is required to stop the samson fish from wrapping the line around a nearby rock. The beaches have been a little hit and miss as of late with just the odd salmon turning up along the local spots together with a few herring, some small King George whiting, flathead and sharks. Some nice skippy were caught at Cheyne Beach and Bluff Creek and there are still heaps of salmon hanging around Bremer Bay. Small boats working the inshore waters have been doing reasonably well on King George in the sound, near Michaelmas, Breaksea and Mistaken islands out from Caseys and Gull Rock and off Limestone Head. On average, one in six King George caught in Princess Royal and Oyster Harbour have been size. Herring are about in fair numbers through the inshore parts and small pinkies are thick in some parts of both harbours. The boats that ventured to the coral in 55 to 85m of water picked up reasonable catches of pink snapper, small dhufish, breaksea cod, queen snapper, samson fish and harlequin fish. The King and Kalgan and most of the rivers each side of town are fishing well for black bream. Mulloway to a metre have been caught on fillet baits in the lower end of the Kalgan.
ESPERANCE:
Many of the beaches including Stockyards, Cape Arid, Thomas River and Poison Creek were closed because of the bush fires. Fourteen Mile was open and produced good catches of salmon for shore-based fishers. Big schools of salmon regularly appeared at Fourth Beach, but were, at times, frustratingly out of casting range. A mix of herring, garfish, sand whiting and squid can be sought at both of the jetties. Bandy Creek boat harbour is worth a visit for King George whiting to 45cm, black bream and small skippy. Local angling gun Mitchell Johnson used a variety of methods to catch yellowtail kingfish to 15kg near the islands last weekend.
GERALDTON:
The boats trolling along the back of Pensioners Bank and around the African Reef area are starting to encounter greater numbers of Spanish mackerel. The inshore waters north of the marina and south of Point Moore have been producing school mackerel, tailor and herring. Squid can be sought from the seagrass beds inside the reef. The coastal stretch between Flat Rocks and Greenough, the beaches close to town and those north leading up to Coronation have been fishing well for tailor between 30 and 45cm, herring, pike and school sharks. Glendenning Road is worth a try for yellowfin whiting, especially in the mornings. The back of The Lives and the northern side of the new marina have chopper tailor, herring, pike, small skippy and the odd bigger mulloway on offer.
KALBARRI:
A terrific 1.10m tailor weighing an estimated 7kg was caught on a popper during the middle of the day at Chinamans last week. Smaller tailor between 40 and 55cm have been turning up early morning and evening at Wittecarra Creek, Siphons and the northern end of the Blue Holes. A 27kg mulloway was landed at one of the local beaches last week and there were several others caught at Wittecarra, Lucky Bay and along the coastal stretch north of the river mouth. A customer of Kalbarri Sports and Dive found Spanish mackerel off Bluff Point recently. Giant herring are lurking in the middle and upper reaches of the Murchison. Black bream and small mulloway are throughout the system and crabs are just starting to show up again.
EXMOUTH:
Billfish enthusiasts continue to encounter good numbers of blue marlin and striped marlin in depths in excess of 400m. Black marlin and sailfish have been inspecting spreads trolled between the 100m and 200m contours. Spanish mackerel and shark mackerel have been caught on bibbed minnows along the 15 to 25m depths behind the west coast reef. Some nice queenfish have recently been caught at VLF Bay. Brassy and golden trevally are being found in the lower areas of the gulf. A couple of huge giant herring were also caught in these parts recently. Mangrove jack and estuary cod are being picked up in the mangroves along the southern and eastern sides of the gulf. The occasional jack has also been coming from the marina.
BROOME:
Barramundi to a metre and the odd bigger fish have been responding well to live baits in the Fitzroy River. More barra have also been picked up at the creeks along the Dampier Peninsula together with mangrove jack and fingermark bream. A couple of boats that visited Banana Wells last week had a field day catching and releasing dozens of mixed size barra. Mostly bluenose salmon and the odd threadfin have been caught in the local creeks. An assortment of pelagic species including brassy trevally, giant trevally, cobia and queenfish has been found at Disaster Rock. Spanish mackerel and tuna are being caught on trolled bibbed minnows and rigged garfish out from Entrance Point and Gantheaume Point.