6PR Breakfast Team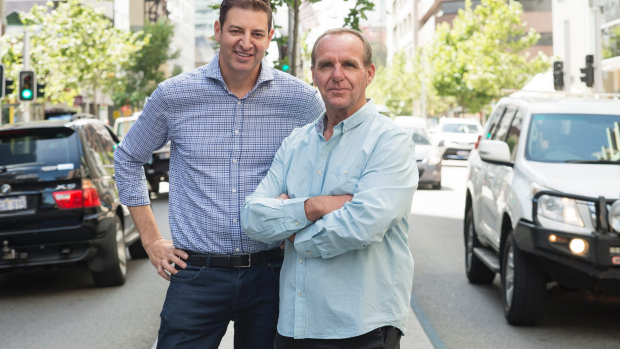 Millsy has worked in a variety of jobs from performing as a Smurf to pay his way through study; to working as an accountant and teacher.
Millsy's involvement with the media happened by chance back in 1987 when he began calling races in the bush. After 23 years of various jobs he entered radio on a permanent basis in 2002 and joined 6PR in November 2004.
What was your first job?
Working in Boans (where Myer is in the city now) selling hardware during school holidays.
What is your favourite on air moment thus far?
There are plenty – perhaps it was today! The interaction between our guests and/or listeners provides plenty of good moments. If I had to nail one, perhaps convincing Federal Treasurer Peter Costello to eat a very hot pie on air. He burnt his tongue but nevertheless continued with the interview.
What is your most embarrassing on air moment?
I meant to say to a regular lady guest who was returning from holidays: 'It's great to have you back'. But for some reason by accident I said: 'It's great to have your breasts'. Thankfully she didn't walk out.
If you could interview anyone (living or dead) who would it be?
Up until a few months ago it would have been Goldie Hawn, but after seeing the movie Walk the Line perhaps Reece Witherspoon.
Basil Zempilas
Basil has been reporting and presenting sport on Channel 7 for 20 years and is part of the Seven Network's AFL commentary team.
He's also a regular on Seven's Australian Open tennis coverage and has been to five Olympic Games as a commentator and presenter, famously calling Steven Bradbury's first Winter Olympic Gold Medal for Australia in 2002.
Locally, Basil is the host of Channel 7's much loved charity fundraiser Telethon.
Basil began his commercial radio career with 6PR back in 1996 calling WAFL and later AFL football, including the 2006 premiership win by the West Coast Eagles.
Contact
Talkback: 08 9 22 11 882
SMS: 19 999 677
Email: breakfast@6pr.com.au
Rumour File: rumourfile@6pr.com.au
Executive Producer: Emily White
Email: emilyw@6pr.com.au
Phone: 08 9220 1400
Associate Producer: Frizz Ferguson
Email: frizzf@6pr.com.au
Phone: 08 9220 1400