5 years jail devalues the worth of a life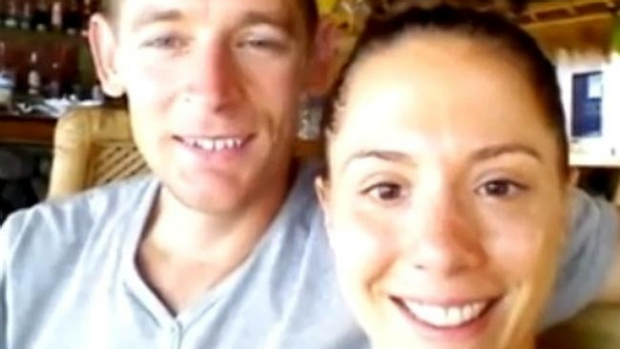 Allowing to be heard may seem such a small gesture but can make a huge difference to the healing process of a tragedy.
For Katey Gibb, her chance to be heard was an opportunity to express her tremendous love and loss of her partner, WA triathlete Brynt McSwain, who was taken by to a hit-and-run driver Joseph Frances Haenga in Welshpool in October last year.
On Friday Haenga was jailed for five and a half years however, before his sentencing, Katy never got to present her victim impact statement.
"The hearing today was hopefully the last traumatic step in six months of constant frustration with Australia's justice system," Katy said.
"Sentencing the driver to five and a half years with three and a half years before parole seems to value a human life very cheaply.
"However, the most upsetting thing was my Victim Impact Statement not being included in the Judge's consideration.
"This follows a sequence of similar events, starting with the fact that it took over six hours before the police informed me of Brynt's death despite my repeated phone calls to them.
The police promised me to keep me informed of the progress of the case, but this did not happen. I had to phone them to discover the driver's guilty plea, the dates for the hearings and what to expect from the legal process.
"The pain and suffering of losing your life partner is surely enough, without being abandoned by the justice system.
This is the impact statement Katey never got to read in court and an insight into what it is like to suddenly lose a loved one to a road accident.
Brynt and I had been together for five and a half years.
We met through our joint love of triathlon and sport. Our greatest joy, and often the time we spent together as just the two of us, was when we were cycling.
Brynt used to often take me for long rides in the Perth hills.
When Brynt was on night shift, as a fireman, he'd often finish work and ride to meet me in Kalamunda to cycle home with me.
That day the anguish of waiting for him, the unanswered phone calls, the unanswered texts, then finally hearing on the radio four hours later that a cyclist in WeIshpool had been killed and knowing in my heart it was Brynt, will be a pain I have to carry alone for the rest of my life.
Brynt and I had found that perfect place in our life.
We were in love and actively making plans for the future, with Brynt having settled into his dream job as an aviation firefighter.
Brynt had been applying for regional and eastern state positions with his job, as we wanted to spend a couple of years with just the two of us before we started a family.
We had discussed marriage and planned to get married within the year. Brynt was the love of my life and my soul mate, we rarely spent time apart. In the five and a half years we were together we either spoke on the phone or were with each other every day, The loneliness is something I struggle with now.
Since Brynt's death I have lost my confidence. As a professional athlete I struggle to train normally. After over four months I am only just now able to cycle on my own but feel extremely anxious when I do.
I often find it hard to participate in races as this is something Brynt and I did together, it constantly reminds me of what I have lost, Brynt was at every race I have ever done.
A month before Brynt was killed I became a professional triathlete, something I had been working toward for years.
My professional debut was meant to be alongside Brynt at Mandurah 70.3 four weeks after Brynt died.
Without Brynt's support, knowledge and encouragement it is unlikely I will be able to pursue this career.
In the years we were together he was my constant, support and guide. Racing no longer holds the same joy it once did, as I am now unable to share it with the one person I love most.
Following the loss of Brynt I have been unable to function normally, resulting missing over three weeks of work.
I had to move into my mother's house with my two dogs as I wasn't able to look after myself.
This created stress on my family, who continue to support me. I lost a large amount of weight, in addition to riot being able to sleep.
There was a huge impact on my regular job as a Marketing Manager, due to my inability to concentrate and having to deal with legal and estate issues on my own often during work hours. Due to the sudden loss of Brynt I have to solely manage and somehow find a way to pay the mortgages on our family home and recently purchased investment property, which still isn't built.
This stress on top of everything else that is happening is taking an extreme toll on me mentally and physically, Brynt's death has meant I have lost my dreams, future, soul mate and best friend.
Brynt was one of a kind that contributed hugely to the community.
His affect on people can be seen by the amount of people who attended his funeral, the over 700 people who attended his memorial ride and the perpetual trophy made in his honour for the Triathlon State Championships.
I now have to somehow re-build the life that I planned to share with Brynt until we were old; I have been unfairly forced to continue on alone without the love of my life.
Every day I struggle to understand how someone as careful, conscientious and innocent as Brynt can be taken so violently by someone's blatant disregard for others.
Brynt's career was dedicated to saving lives, and I still continue to question why it appears as though no one was looking out for him or other cyclists on the road.
Since Brynt's death it has become increasingly obvious the positive mark he left on so many lives and the loss so many people feel. You have to ask what are we doing to ensure Brynt didn't die in vain and protect others in similar circumstances.
Victims Commissioner Anne O'Neill spoke to Gary Adshead about the unacceptable breakdown in communication that prevented Ms Gibb's impact statement being read out or being included in the sentencing.